IN THE NEWS



Links to newspaper articles on projects in which Scope View Strategic Advantage has been involved. Click on the links to read the full articles.

Complacency Toward Education
Goldsboro News Argus March 1, 2018

Investing in Pottawatomie Children
The Shawnee News Star, February 23, 2016

Homefront Operations: When Education Is Cut
The Fayeteville Observer September 10, 2015

Building the Region's Workforce the Focus of 2015 Think Ahead Forum
The Kansas City Star, July 6, 2015

Early Education and the Future Workforce
Suffolk County Patch, June 29, 2015

The Foundation for Tennessee's Economy
Nashville, March 12, 2015

No Longer Number One
Utica, New York, March 11, 2015

Region's Largest Business Association Hears Major Presentations on Workforce Development
Newsday, October 23, 2014

Gaston Group Works tro Add Private Funding to Economic Development Efforts
Charlotte Business Journal, August 15, 2014

Our View: Early Education Can Help Us Battle Crime
The Fayetteville Observer, August 7, 2014

The Business Case For Early Childhood Focus: Speaker Highlights Economic Beneflits
Wausau Daily Herald, April 28, 2014

NC Business Leaders Ask Lawmakers to Support Early Childhood Programs
First 2000 Days, May, 2013

The Secret to Competing in a Global Economy
New York Nonprofit Press, March, 2013

Focus on Literacy
The News & Advance, February, 2013

The Importance of Early Childhood Education in a Strong Regional Economy
The Post Standard, January, 2013


Knowledge Has a Price
Castle Rock News Press, December, 2011

Business, Military Leaders Singing Praises of Early Education
Cadillac News, June, 2011

Gates or Spears?
Press Argus, April 2011

Plans for Southern Pines Library Tied with Long-range Vision
The Pilot, April 22, 2011

SPECIAL REPORT: Don't Count Out Early Education
The Center for Michigan, February 3, 2011

Alaska Education Update
Wednesday, March 9, 2011

Turning Things Around Won't Come Overnight
Press Argus, Howell, MI October 23, 2010


Appalachian Regional Library System Completes Five-Year Plan
High Country Press, Boone, NC August 26, 2010

Technology's Dramatic Impacts on Company-Customer Relationships
Rowan Business Magazine, Salisbury, North Carolina

Public Library Shines in Recent Assessment
The Kinston Free Press, Kinston, NC October 4, 2010

2010 Economic Summit Set
The Daily Reporter, Coldwater, Michigan, May 2010

Launching a Workforce
Press Argus, Howell, Michigan, March 2010

Regionalism: Competing Successfully In A Global Economy
Muskogee Phoenix, Muskogee, Oklahoma March 21, 2010

Boulder's Community Foundation Looks to Close School Achievement Gap
Daily Camera, Boulder, Colorado March 6, 2010

Ideas for advancing Enid Discussed at Autry Tech Summit
Enid News Eagle, Enid, Oklahoma February 17, 2010

Focus on Region to Achieve Economic Success
Tahlequah Daily Press, November 4, 2009

U.S. Needs to Return to Head of the Class in Education
Friends of the US Chamber of Commerce, September 2009

Governor, Experts link economy, early-education funds.
Arkansas Democrat Gazette, September 2009


Early Childhood Education is Econ Development
Ludington Daily News, September 22, 2009

Knowledge infrastructure-- Where the action is
St. Joseph News Press, March 28, 2009

An Unexpected Necessity in Global Competition
Grand Rapids Business Journal, March 11, 2009

United Way Honors Volunteers; Praised for Accountability
Goldsboro, N.C. February 27, 2009

Expert says early education 'imperative'
More emphasis should be placed on cognitive development in child's first 4 years
Hickory, N.C. September 18, 2008

"Enough Already With the Warm and Fuzzies"
Norfolk, Virginia May 22, 2008

Outside Speakers Provoke Strategic Thinking
Holland, Michigan May 9, 2008

Investing Now in Community's Economic Future
Citizen Patriot , Jackson, Michigan, February 2008

Business Leaders Rally Around Cause
Inside Business, Norfolk, VA, February 11, 2008

An Unexpected Resource in Economic Development
Alaska Journal of Commerce, Anchorage Alaska, Dec. 23, 2007

Real Economic Issues: Will They Be Addressed?
Ponca City News, Ponca City, Oklahoma, Nov. 4, 2007

Business/Education Should Partner
The Dispatch, Lexington, North Carolina, Nov. 10, 2007

Answering Challenges to U.S. Economic and Technology Leadership
Post-Bulletin, Rochester, Minnesota, Oct. 10, 2007

Pender County Schools Setting 'Real World' Goals
Star News, Wilmington, North Carolina, Sept. 24, 2007

North Carolina Businessman Keynotes Conference
Holland Sentinel, Holland, Michigan, Sept. 21, 2007

A Wise Investment: Bolstering Local, National Economy
Clayton News Star, Clayton, North Carolina, July 5, 2007

Impact of Early Education on Quality Workforce Detailed
Daily Telegraph, Adrian, Michigan, June 30, 2007

Business Support for Children is Critical
The Herald Sun, Durham, Chapel Hill and Research Triangle
Region of North Carolina, Mar. 25, 2007

Early Education / Economic Growth Ties Detailed at Forsyth Leadership Summit
Winston Salem Journal, Winston-Salem, North Carolina, Oct. 11, 2006

Millett Lays Out the Economic Case for Michigan's Great Start to Local Leaders
Daily Reporter, Coldwater, Michigan, Sept. 25, 2006

School Board Hopes To Help Students Meet High Standards
Salisbury Post, Salisbury, North Carolina, July 14, 2007

Wilkes Library Reallocates Resources
Wilkes Journal-Patriot, North Wilkesboro, North Carolina, July 12, 2006

Public Survey Gives Library High Marks
Star News, Wilmington, North Carolina, Jan. 5, 2005

Partnership for Children Selects Consultant From Charlotte
Stanly News and Press, Albemarle, North Carolina, Dec. 26, 2004

Library Project Seeks Grant
High Point Enterprise, High Point, North Carolina, Dec. 16, 2004

Multiple Economic Impacts of Child Care Industry Detailed
Salisbury Post, Salisbury, North Carolina, Apr. 6, 2003

Business Group Redefines Itself and Its Programs
Salisbury Post, Salisbury, North Carolina, Mar. 30, 2003

United Way Considers Changes to Needs Assessment and Allocations
The Weekly Post, Stanly County, North Carolina, May 30, 2001

County Undertakes Comprehensive Child Health Survey
The News Reporter, Columbus County, North Carolina, Mar. 27, 2003

City Officials List Biggest Needs During Retreat
Salisbury Post, Salisbury, North Carolina, Feb. 21, 2003

Comprehensive Health and Human Services Analysis Begun
The Weekly Post, Stanly County, North Carolina, Mar. 29, 2000

Raising the Bar / Group Wants to Build on Strengths
Enquirer-Journal, Monroe, North Carolina, Jan. 26, 2002
---

Goldsboro, NC
March 1, 2018

Complacency toward education has left the United States behind other countries and created a workforce lacking in critical thinking and literacy skills, speaker William Millett said at the United Way of Wayne County annual meeting Wednesday.
Organizations like United Wayne, with their dedication to early childhood education, are key to fixing the problem, he said.
Early education, especially in literacy and critical thinking, is vital in building the foundation for a workforce which can take initiative, be creative and cement the U.S. as a global leader in the fields of science and technology.
Millett lauded United Wayne for its people-centric approach to fundraising.
"This is not a typical United Way, take that as a compliment," he said. "When most people in the country think of United Way, what do they think of? Money, money, money."
Millett flipped through several slides of other United Way fundraising efforts. Each had a slider for how much money the group had raised, until Millett arrived at the Wayne County chapter. There, the slider showed a goal for "lives improved," instead of money raised, which Millett said was an indication of United Wayne's focus on what to do with money raised, not just the act of raising it.

"The billboard here doesn't even mention money, it's focused on the impact, on the difference that you're making," he said. "I cannot tell you how different that is from so many United Ways. They're all about raising money; they consider it a success if they raise money. The ultimate question though is 'what do you do with it?'"

Millett said that a lack of strong leadership has led North Carolina, and the nation as a whole, to devalue strong early education, which has in turn caused the country to slip behind other nations in student performance.

"Right now we have the U.S. Secretary of Education, one of the most questionable Cabinet appointments in my lifetime. I'm familiar with her work in Michigan where her entire emphasis was on charter schools. If you saw her testifying at the confirmation hearing, you'll know how little she knows about public education. It was embarrassing to watch" he said. "At the North Carolina Department of Public Instruction, we have a Secretary who said last month that $35,000 a year is pretty good money. Do you really think you're going to attract quality educators for $35,000 a year in a state that is already low in terms of teacher salaries?"

A local focus on early education is vital to overcome those barriers, Millett said, and United Wayne is going the extra mile to involve the public and business communities in providing that education.


Investing in Pottawatomie Children
Shawnee, Oklahoma
February 23, 2016
Avedis Foundation unveiled a new speaker series Monday, bringing in Bill Millett, an accomplished South Carolina businessman, to stress to local leaders the vital role of investing in Pottawatomie County children. Millett, president of Scope View Strategic Advantage, based out of Charlotte, South Carolina, has more than 30 years experience in economic development.


He came to offer a compelling look at what impact investment –– or the lack thereof –– really has on a community. "What your workforce will look like in 2036 is being shaped in no small way by what is happening with your youngest citizens today, and their experiences in educational, social and emotional and other developmental areas."
Millett said the competition for quality jobs and rewarding lifestyles for today's kids across Oklahoma is growing up on at least four other continents. "While the United States has held steady over the years in education, the rest of the world has upped their game –– which means we are treading water." He cited statistics that show the U.S., compared to other countries, now ranks 24th in reading proficiency, 28th in science, and 36th in math.
"Other countries have more honor students than we have students," he said, "and they revere their teachers." The bottom line is that education plays a crucial role in economic development.
Millett said he has spent much of his career assisting corporations that are looking for the right location for new expanded facilities. "They want to know what an area is doing now to ensure a competitive and skilled workforce 15-20 years out."
If they are going to spend millions in a community, they intend to be there awhile, he said.
"These companies are increasingly viewing education differently, not as kindergarten through high school, but more like birth through retirement." It starts with the earliest days and months of life, he said.
If people refuse to be complacent, and Pott. County invests in its most prized resources, it won't have to pay later with higher dropout and crime rates, plus losses in economic development, he said. "If I had to give 200 adjectives to describe Avedis, complacent would not be one of them. I've seen foundations that have been operational for two or three decades that do not have the advocacy, the passion or the proactivity that Avedis does. It's impressive," Millett stated.
The foundation may still be in its infancy, but it has certainly earned the label of child prodigy.
Avedis President Michelle Briggs said the foundation has awarded right at $23 million –– so far. She said from the beginning –– after spending the first year getting established –– they have acted as a private foundation –– even though they didn't have to award money yet –– becoming involved in about 150 projects over the past two years.
"Avedis is a transitional foundation," President Michelle Briggs said. "We sold our community hospital and are transitioning from a public charity into a private foundation. From an IRS viewpoint, it takes about five or six years to transition, so we are at about three and a half years into that process." She said of the differences between a public charity and a private foundation, a charity gets a majority of its money from fundraising, whereas a foundation does not –– and foundations are required to give away five percent of their assets per year.

---

Fayetteville, North Carolina
September 10, 2015
Homefront Operations: When Education Is Cut
What do you do when your state cuts education funds? Are you shocked? Are you appalled? Are you disappointed? I am.

I believe in education. I embrace it; I revel in it, and share with people why I feel education is the most important issue. Education changes the world. Limitations disappear when a person is educated. However, when a state legislature makes cuts to education, limitations are placed on a vulnerable population who cannot defend themselves. Limitations are placed on children. And people feel powerless to stop the cuts aimed at education.

Last year I attended the annual Partnership for Children of Cumberland County luncheon. The keynote speaker, Bill Millett, President of Scope View Strategic Advantage spoke honestly and passionately about early childhood education, and overall education.

Mr. Millett believes that all citizens, tax payers, parents, non parents, everyone have a stake in education. While the focus of the presentation was on early childhood education and economic development in North Carolina, the commentary on all education impacted me in an unexpected way.

It was his statements about how our country is not stacking up educationally and because of that we are falling behind. Global competition impacts our children today in ways that previous generations have never experienced.

To keep our children competitive in a global economy, they must be educated. Education is the key, it opens every door. However, when legislators make cuts to education; doors close on opportunities.

I understand that not all of us have children in schools here in North Carolina. I also understand that in military impacted communities that many do not pay taxes to the state they reside in. So the thought that education isn't your problem creeps in.

The "it's not my problem" mentality is no longer acceptable when it comes to education and our children. Education or the lack there of, is your problem. It's everyone's problem. I live in Fayetteville, North Carolina. My son attends
Cumberland County Schools. I am very proud of both of those facts. I am an active participant in my son's education, my community, and this state.

Not all military families believe they have a vested interest in their community which makes me sad. What military families fail to realize is this: when you don't show interest in your community, when stay silent, you give up your voice and the voice of your children.

What also makes me sad are the cuts I see to education from this state's General Assembly. As a military spouse, a homeowner, and resident of North Carolina, that bothers me. I am deeply concerned about my son's education in this state, and other military families are concerned as well.

Mr. Millet's presentation resonated with me. However, I was dumbfounded by the revelation that cuts to education and early childhood education impacts national security. How is that possible?

What is the tie between education and national security? I understand the significance of education and the economy, but national security?

I could not wrap my brain around that statement. I still struggle with finding the right words on how to explain the correlation between education and national security.

What do cuts to education affect? Aside from the obvious which are the loss of jobs, schools not being repaired, lack of textbooks, and the loss of after school programs just to name a few, education cuts do so much more.

Childhood obesity is a problem in our country and there are school programs to help combat obesity. Service members must maintain physical standards in order to join and stay in the military. Our recruitment numbers decrease substantially because of childhood and adolescent obesity.

If students fall behind in their academics, that too will impact recruiting. I don't know of any branch that will enlist a service member without a high school diploma.

After school programs aimed towards at risk youth help keep kids out of trouble. Again, I don't know too many branches that will accept a recruit who has faced multiple legal troubles.

But people don't think of education in this way. People don't think about how cutting education impacts every aspect of our lives.

Do you see why education cuts are your problem? We want to live in a state that is competitive with the global economy. We also have a vested interest in national security. Educating our children is the way to achieve a strong economy, in a safe country.


Kansas City, Missouri
July 6, 2015
Building the Region's Workforce
the Focus of 2015 Think Ahead Forum
St. Joseph, Missouri– Individuals from over twenty communities throughout America's heartland are registered to participate in the 2015 Think Ahead Forum to be held this Friday from 8:00 a.m. to 12:30 p.m. at Heartland Foundation's emPowerU Campus in downtown St. Joseph, Mo. The theme for this regional conversation is "Building the Region's Workforce," and features national, state, and regional leaders discussing grassroots actions that can be taken to uplift the short-term and long-term value of supporting education's importance from birth through retirement.
"This Forum is a call to action for community members to get involved. Our young people, along with their parents and caregivers, need to know how much the region's businesses, organizations, elected officials, educators, and community members' at large care about their education and well-being," said Judith Sabbert, chief operating officer of Heartland Foundation. "We recognize they are the decision-makers of our future, and want to do all we can to help them learn what they need to be successful in building a more thriving regional community."
The morning's keynote address will be delivered by Bill Millett, founder of Scope View Strategic Advantage, who has more than thirty years of experience working with private, nonprofit and public firms on economic, organizational, and business development. His message to the participants, and the region as a whole, regards the growing recognition that quality early education, and greater support of education in general, is very much an issue relating to employers' abilities to find the talent necessary for long-term economic sustainability and competitiveness.
To further catalyze conversations and collaborative action, Peter Herschend, co-founder and co-owner of Herschend Family entertainment (formerly Silver Dollar City, Inc.), and president of the Missouri State Board of Education, will be moderating a panel of business, education, and community leaders from throughout the region. Panelists include: Becky Cleveland, executive director, Brookfield Industrial Development Authority; Debbie Kunz, coordinator, Parents as Teachers, St. Joseph School District; Dr. Ron Lankford, deputy commissioner of education, Missouri Department of Elementary & Secondary Education; Paula Neth, vice president of programs, The Family Conservancy; Dr. Neil Nuttall, president, North Central Missouri College; and, Kent Wilson, director of operations, Northwest Medical Center.

---

Commack, NY
June 29, 2015
Early Education and the Future Workforce
The Child Care Council of Suffolk's 27th Annual Meeting – which was held at Touro Law School on Friday, June 12, 2015 – focused on the theme of why we all have a stake in the issue of early childhood education. The organization also recognized Hon. Jacqueline A. Gordon, Town of Babylon Councilwoman, and Sandra Gil, Parent Leadership Initiative Advocate with Outstanding Supporter Awards and featured Keynote Speaker Bill Millett, President, Scope View Strategic Advantage.
In his Keynote Address, Millett described that "it is in the earliest years that the development of the future workforce begins and where such factors as creativity, collaboration, motivation, critical thinking, entrepreneurship and related factors are fostered … or stymied." Despite this reality, "high-quality, early education in many place across the United States is under-recognized, under-valued and under-funded. The evidence is everywhere: the frequent lack of strong public sector financial support, the low professional standards often set for early educators, the salaries and benefits or lack of same that they receive and the minimal involvement in the issue by too many elected, business and other leaders."
Millett described how "to be successful in life and in work, today's Suffolk County kids will need to be ready in ways that none of us ever had to be, for their competition for quality jobs and lifestyles is growing up on at least four other continents. And more than a few of the counties on those continents are investing more in getting their children ready for the future than we are."
He thanked the Child Care Council of Suffolk's Annual Meeting attendees for their interest "in the returns that are generated by investments in quality early education – returns that benefit children, parents, businesses, governments, and taxpayers … returns that can be measured in terms of workforce development, economic development, community development, public safety and even national security … returns that set the right course for Suffolk County and that of the United States."
"There is no one at this Annual Meeting who does not have a stake in how this issue is addressed. For that matter, there is no one anywhere in Suffolk County, who does not have major skin in the fame," said Millett. "The stakes are high, and America needs to be 'all in'."

---
Nashville, Tennessee
March 12, 2015
The Foundation for Tennessee's Economy
The importance of early childhood education is a top priority for child advocates this week as they work to encourage lawmakers to expand the availability of pre-kindergarten programs to Tennessee families during Children's Advocacy Days in Nashville.

While data supports the role early education plays in the lives of individual children, it comes down to dollars and cents for Bill Millett, the founder of Scope View Strategic Advantage, a firm that works with companies looking to find a qualified workforce.

"There are some companies that go overseas because it's cheaper over there, but there are some major Fortune 200 companies that we work with that just can't find the talent here," says Millett. "They're patriots. They want us to up our game in terms of workforce development, and they believe that workforce development begins in the earliest months of life."

According to the Tennessee Commission on Children and Youth, for every dollar spent on pre-kindergarten education, there are returns of anywhere between $4 and $16 to the state's economy. The First Five Years Fund estimates children who receive early childhood education are 33 percent more likely to be employed and earn a higher average salary, and 70 percent less likely to be arrested for a violent crime before the age of 18. Tennessee currently provides free pre-kindergarten to families who live at 185 percent of the federal poverty rate, but doesn't have the funding for all eligible children. Joyce Bridges, director of the Tennessee Child Care Resource and Referral Network, says there are many more children in need, and helping them would benefit everyone.

"That individual with a good, solid, early foundation is then prepared to have success in elementary school, middle school, high school, and is more likely to be encouraged to go on to post-secondary school," she says.

Millett adds that in the global economy it's important to remember what was adequate education in the last generation won't make the grade as the U.S. works to compete with other world economies. "Their competition for quality lives and quality jobs is growing up on at least four other continents," he says. "Those kids have access to information, and in many cases, better early childhood education than our kids have."

---

Utica, New York
March 11, 2015
No Longer Number One
"We are not 'Number One' any more." This was the warning that Bill Millett gave back in October regarding the state of education in the United States. Millett, who spoke at the Ensuring a Ready Workforce in the Mohawk Valley event, informed attendees that the United States lags far behind many other countries when it comes to providing access to early childhood education.
Other countries, like China, Japan and India, give more funding to early-childhood opportunities because they know that the return on investment is so high – between 7% and 10% a year according to the analysis from the Perry Preschool program. This is based on increased school and career achievement as well as reduced costs in remedial education, health and criminal justice system expenditures.
Fueled by Bill Millett's presentation, a group of Business Leaders and Non-Profit organizations gathered on November 20, 2014 to work toward improving the state of high quality early education in the Mohawk Valley. During this meeting, members shared their experiences and concerns regarding child care and how it affects their business operations.
"Often times our firm identifies the perfect employee for the job, but they cannot take it because of the barrier of finding child care", says group co-chair John Calabrese, owner and president of Express Employment Professionals.
Co-chairs John Calabrese and Alice Savino (Workforce Investment Board) have set the next meeting date for March 26th, 2015 at 2pm at the Oneida County Farm & Home Center office. "We are actively recruiting business leaders from different segments of business to get behind this initiative with us," Calabrese continues. "Our goal is to have representation from many different industry segments that can speak to the issues first hand and help us create a strong voice to support advancements in this area."

---

Long Island, NY / October 24, 2014
Region's Largest Business Association Hears Major Presentations on Workforce Development
The Long Island Association, the region's largest business group, announced that it would make child care a top priority after hearing compelling presentations about the importance of the issue to the region's economy.
An eight page report estimates that $804 million is spent annually on child care in Nassau and Suffolk counties according to economist John A. Rizzo, one of the report's authors. Rizzo, speaking to an assembly of child care providers and business leaders at the Long Island Association pointed out the economic leverage gained by spending on child care and its ability to enable people to work.
Two contributors to the report, trade groups Child Care Council of Nassau Inc. and Child Care Council of Suffolk Inc., found 1,825 full- and part-time child care programs locally, including Head Start and after-school programs. The figure doesn't include unregulated nannies, au pairs and facilities caring for two or less children. According to information from the Bureau of Labor Statistics, the Island's child care workforce totals 8,750 people, who average $27,700 per year.
The meeting's keynote speaker, Bill Millett, a Charlotte, North Carolina-based consultant to business, said his clients often look at the child care options of states and regions when determining where to locate offices or factories. He spoke on how child care is crucial to an area's long-term economic vitality and workforce development. Millett cited the U.S. Chamber of Commerce, the Business Roundtable, the National Association of manufacturers and other trade groups that have come strongly for federal and state investments in early learning.
"Long Island's young children in 2014 will, for better or worse, will be the core of your workforce in 2035 and beyond," stated Millett. "Their competition for quality jobs and a quality life is growing up on at least four other continents-- a challenge none of us ever had. Our kids need to be more ready than we did, and ready starts in the earliest days of life." He also referenced the backing of quality early learning by law enforcement, military and other organizations

.
---

Charlotte, NC / August 15, 2014
Gaston group works to add private funding to economic-development efforts
Carroll Gray is the new executive director of the Greater Gaston Development Corp. Leaders of about 40 Gaston County businesses are planning to form a nonprofit agency designed to kick up the level of growth there by creating jobs and building the tax base. Real estate executive Bob Clay, chairman of the newly formed Greater Gaston Development Corp., says the idea is to funnel private money and ideas into recruiting business and industry into the county.
"We need a solution to the fact that Gaston County is the slowest-growing county that touches Mecklenburg County in the Charlotte area," Clay says. With a budget of about $250,000 for the first year or so, the group, also called the Alliance for Growth Initiative, has hired former Charlotte Chamber president Carroll Gray as executive director.
The alliance also has contracted with Bill Millett, president of Charlotte-based consulting firm Scope View Strategic Advantage, to coordinate a plan to complete the formation of the group. The goal is to present the findings of the group to its board of trustees around Thanksgiving.
"We have to find a way to get everyone working together" in Gaston County, Gray says. Often the 13 municipalities and county government can't reach a consensus on countywide efforts, he says.
Four business executives have taken seats on the board. They are Clay of CBCMeca Properties; Fred Jackson, CEO of American & Efird; Andy Warlick, CEO of Parkdale Mills; and Doug Luckett, CEO of CaroMont Health.
Each has contributed substantially toward the agency's budget. Clay and Gray promise the group will not seek or accept public dollars to finance its activities. The idea isn't to take the industry-recruiting role from the Gaston County Economic Development Commission, a county-financed operation, Clay says. "We will cooperate with the economic development corporation," he says.

---

Editorial
Fayetteville, NC / August 7, 2014
Our View: Early Education Can Help Us Battle Crime

There is no magic moment when a young man or woman decides to embrace a life of crime. The seed is sown long before a child even knows choices exist.
Criminal behavior is often rooted in failure - especially failures in the classroom. A lot of the crime is committed by dropouts, many of whom knew while they were still in elementary school that they would walk away from school as soon as they were old enough.
Growing evidence points to early childhood as the place to find that fail-or-flourish switch.
Bill Millett says, "The first 2,000 days of life sets the stage for everything else. Early education is a high priority." Millett, president of Scope View Strategic Advantage, was guest speaker for an annual luncheon of the county Partnership for Children. He was preaching to the choir. Perhaps the choir will take the message to the streets, and maybe to the General Assembly, where budget cutters need to hear it.\
The first 2,000 days of life - roughly the first 5 1/2 years - has long been a priority for North Carolina public education. Former Gov. Jim Hunt understood how much early education could improve children's success later in life and he pushed hard and successfully to make this state a national leader with the Smart Start program. Now, Hunt says, "we are not more than halfway to where we need to be to fund Smart Start."
That's a result of repeated waves of budget cutting that began in the recession and continue to this day. Children once eligible for state funding in early education have been bumped out of the program and their parents rely now on poorer-quality day-care programs. Educators are bracing for a new wave of dropouts and police are bracing for a fresh crop of criminals.
Contrast this with Oklahoma, one of three states that offers universal early-childhood education. Since 1998, the state by law provides education to every 4-year-old, regardless of family income. As a recent story in the Observer's "Seeking Safety" series reported, 74 percent of the state's children are enrolled.
Children begin kindergarten better prepared, mentally and socially, for school. Experts believe it sets the stage for achievement later and diminishes the likelihood of a life of crime. Oklahoma, by the way, is one of the reddest of states, with government dominated by the Republican Party.
There is a lesson there for North Carolina. One we should learn quickly.

---

Wausau, Wisconsin
April 28, 2014
The business case for early childhood focus:
Speaker highlights economic benefits.
When it comes to investing in early childhood education, said Bill Millett, "It's not about ABCs. It's about ROI," or return on investment.
Millett, president of the North Carolina-based consulting firm Scope View Strategic Advantage, spoke to an assembled group of business and community leaders Tuesday in Rib Mountain about how factors such as providing high-quality daycare and reading to babies translate into future workforce and business advantages.
It was a decidedly non-warm-and-fuzzy presentation for a group brought together by the United Way of Marathon County and the Wausau Region Chamber of Commerce. Millett's focus was squarely on U.S. global competitiveness — and the need for dramatic changes if our workers are to maintain their position.
First: Though it might bruise our patriotic egos, the fact is that our education system is not a global leader. The U.S. is 17th in the world in 15-year-old reading levels; 21st in 15-year-old science proficiency; 26th in math, according to international rankings. It is not just a problem of poverty, either; Millett noted that middle-class American kids lag behind international counterparts, too, and sometimes even behind other nations' low-income students.
"We need to wake up," was Millett's blunt assessment.
Next: "If you want to turn that around," Millett said, "you've got to understand where the starting line is." It isn't at the high school or university level. It's not even at kindergarten. In fact, the science of brain development has found that conditions in the first years of life — even, in some cases, before birth — make a huge difference in the future skills and aptitudes of those individuals.
The United Way's LIFE report identified early childhood education as one of a small handful of calls to action for Wausau and the region. The Marathon County Early Years Coalition, a consortium of the public agencies, nonprofits and private businesses that all have a hand in giving children the best possible start, has established a community resource at the website www.raisegreatkids.org and has worked on a number of community initiatives to help make the region a leader in caring for our youngest children.
Millett's perspective and the Chamber's presence on this issue is intended to emphasize the long-term benefit to the business community of taking these actions. It is not, in other words, all about humanitarian charity. There are concrete and self-interested reasons for companies to do things like offer generous family leave policies and promote public and private investments in daycare and other services.
And even if it is hard to quite envision the benefits that will accrue in 20 years or more from having high-quality early education, Dean Dietrich, the Ruder Ware attorney who is the chairman of the Early Years Coalition, on Tuesday morning offered another, more short-term benefit.
"I have a vision that any time somebody says 'Marathon County,'" Dietrich said, "the first thing the person next to them thinks is, 'That's the best place to raise kids in the state of Wisconsin.'
"I believe one of the core benefits to bring people and businesses to this area is if we can be known as the best place to raise great kids," Dietrich said.
This region has a case to make for itself. But it will take a continued and concerted community effort if we are going to earn that reputation.
Let's do it.

---

NC Business Leaders Ask Lawmakers
to Support Early Childhood Programs

May 29, 2013

Three North Carolina leaders joined their colleagues from around the country in signing an open letter to President Obama and Members of Congress declaring support for early childhood programs.
Tsegga Medhin, Manager at IBM (Raleigh); Bill Millett, President of Scope View Strategic Advantage (Charlotte) and Steve Reinemund, Retired Chairman and CEO at PepsiCo (Winston-Salem) were among the signatories that included a range of companies such as Delta Airlines, McKinsey & Company and PNC Financial Services Group.
Citing the benefits early childhood programs provide to the nation's economy, workforce preparedness, and standing in the global marketplace, business leaders are asking the nation's leaders to make it a national priority to invest in the academic and social development of young children

---

"The Secret to Competing in a Global Economy"
New York, New York
March 26, 2013
The Capital District Child Care Council, a nonprofit organization serving parents, employers and child care providers in Albany, Fulton, Montgomery, Rensselaer, Saratoga and Schenectady counties, is asking Capital Region businesses, legislators and advocacy groups to join them on Wednesday, April 17 from 7:45 - 9:00 a.m. at the Holiday Inn, Wolf Road, Albany for a complimentary breakfast meeting on "The Secret to Competing in a Global Economy."

The meeting will examine the importance of early education to the area's economic competitiveness. Appropriately addressing the development needs of the current and future workforce is vital to the success of a business and the community. "We want to close the communication gap between child care providers and business leaders," said Abbe Kovacik, the Capital District Child Care Council's Executive Director. "The term 'child care' is often mistaken for 'babysitting.' We want to share information about the child care community across all sectors. We have invited business leaders, local legislators and other advocacy groups, such as the Office of Children and Family Services.

Opening remarks will be by Wesley (Wes) L. Holloway, Vice President of Diversity, Price Chopper, a Golub Corporation Company. "Wes is a great spokesperson for this cause," expressed Kovacik. "He engages students and promotes access to quality early care in education."

"We are also excited to have Bill Millett speak at the meeting," continued Kovacik. "Bill is a good person and comes from the business world. He will highlight the needs in the corporate industry as they relate to economic development, and he will speak about local areas that don't have early education development opportunities."
"The long-term economic vitality of companies and communities in the Capital Region depends on effectively mobilizing every possible competitive resource today," said Millett, Presenter and Founder of Scope View Strategic Advantage.

This event will be hosted by the Capital District Child Care Council, with support from the Albany Colonie Regional Chamber, the Rensselaer County Regional Chamber of Commerce, the Chamber of Schenectady County, the Saratoga County Chamber of Commerce, Price Chopper, and the Capital Region Human Resource Association.

---

Lynchburg, Virginia
February 3, 2013
Focus on literacy
Stakeholders begin developing comprehensive strategy
Discussing the issues
(Bill Millett of Scope View Strategic Advantage facilitated a countywide meeting at the Agricultural Center on Thursday to develop a literacy strategy for Rockingham County.)
Jail overcrowding, low graduation rates and lack of workforce development are a few of the country's major social issues hindering families from achieving the American dream. What if there was a way to stop some of these problems in their tracks?
A substantial investment in quality early childhood education is where the difference will be made, according to Bill Millett, founder of Scope View Strategic Advantage. He facilitated a strategic planning meeting on Thursday, Jan. 31 at the Agricultural Center in Wentworth for community stakeholders throughout the county.
Partnership for Children and the Rockingham County Education Foundation sponsored Millett's visit. He said citizens must operate with a sense of urgency in order for the United States to regain its global position.
"Quality education is one of the biggest investments a nation can make," he said. "The United States has never committed the funds to provide for that. It's not that we under-spend on education, but it's a question of how we go about it and what lessons we can learn from those who outperform us. How willing are we to set aside American egotism and work with someone else?"
Millett said countries like India and China have more honor students than America has students. He asked the crowd what that really means for America's future.
"The problem is early literacy," he said. "Across the country, people have done a crappy job of marketing the importance of early childhood education. You have to show all the pieces."
Rockingham County's mission to improve early childhood literacy is dubbed STRIVE, which stands for Securing Tomorrow Rockingham Invests in and Values Education. Lee Niegelsky, Education Foundation Board of Directors, said he was very concerned and excited to address these issues in Rockingham County.
"Education in the United States is very much a local function, and we can have so much impact here – we don't have to wait on everybody else," he said. "The word 'strive' is aspiration. It reminds us that there's work to be done. We're not there, but we're at that point where we're going to be setting goals, but we still have a lot of work to do."
After Millett's initial presentation, workshop participants engaged in group discussions to hammer out the beginning of a comprehensive literacy strategy.
Youth Librarian Jacky Miller presented information from her table's group discussion. She said there were several reasons why Rockingham County is falling short in the area of literacy.
"I think the general attitudes in Rockingham County do not value education," she said. "We're in a room full of people that value education, but it seems like this is a prevalent attitude in Rockingham that has to change, somehow."
She said poverty is a deterrent in the development of early education in addition to rules that prevent creative solutions.
"There are lots of different ways to go about solving these problems, but sometimes, the bureaucracy gets in the way," she said.
Eden City Councilmen Jim Burnette also shared his thoughts on why early childhood literacy is lacking.
"There are many gaps in family education – we know that early childhood education is a concern," he said. "We don't value education; we have a lack of urgency…What if people talked about literacy like the gun control debate?"
Although Thursday's workshop did not yield concrete objectives moving forward, there were a number of common themes throughout group presentations.
Millett highlighted communication issues as a major recurrence. Attendees citied communication failures with parents and what they should be doing with their children to promote early literacy, education jargon, language barriers and a lack of concise information disseminated from those in positions of authority.
Other ideas included in the summary discussion involved completing an inventory of all programs throughout the county to help parents and improve literacy, and bringing additional groups into the fold like law enforcement officials, ministers or military personnel to spread the word about the importance of early childhood literacy.
Niegelsky said literacy ties into everything Rockingham County needs to succeed.
"We have to make education a central value in this community if we're going to be successful," he said. "It has to be reflected in how we commit our resources – our public and private dollars, time, sweat and heart. All those investments have to go into education for us to truly value it. To talk about it is wonderful, but there has to be the investment that elevates and improves that area."
Heather Adams, executive director of the Partnership for Children, said she will plan to schedule meetings with volunteers throughout the year to develop the comprehensive plan and deliverables for the community. She said another large meeting could be in the works for Millet to discuss his presentation in front of a larger group.

---

The Importance of Early Childhood Education in a Strong Regional Economy
Syracuse, New York
January 26, 2013
Syracuse -- Bill Millett, founder of the business consulting firm Scope View Strategic Advantage in Charlotte, N.C., will speak in Syracuse Friday morning on the importance of early childhood education to a strong regional economy.



Millett, who has worked with early childhood initiatives across the country, will be the guest of Success By 6 and Child Care Solutions. He will address business leaders, educators, law enforcement officials and legislators at LeMoyne College's Grewen Hall. Attendance to the 7:30 a.m. event is by invitation only.
The Onondaga County Literacy Coalition, the Syracuse Association for the Education of Young Children and Royal Treatment Day Spa are co-sponsors.
The Post-Standard caught up with Millett in a telephone interview last week. Here is some of what he had to say.
How did you get involved in early childhood development?
Both my sister and I were adopted. When we were old enough to realize how lucky we were to have such spectacular parents, we knew that whatever else we'd do we'd get involved in kids' issues. Our lives could have turned out differently had we not been so fortunate. ...
And most of my career was in economic development, and it became obvious about 15 years ago that companies I wanted to work with ... were beginning to recognize that education — the development of the workforce — wasn't just K-12. The really enlightened ones want to know not just what their workforce will look like one year out, five years out, 10 years out, but what is the community doing to ensure a globally competitive workforce 20 years out? Those companies are beginning to realize that workforce development is not K-12, it's literally birth through retirement.
What is the most important thing we should focus on at this point in early education?
Quality.
Quality?
Yes. There is a program out there called Quality Stars. It assigns one through five stars to a child-care center based on things like teacher education, ratio of teachers to kids, the curriculum and that sort of thing. This is a program we've had in North Carolina for 10 to 20 years, and it gives parents information. It is absolutely critical from our standpoint that we talk about not just the accessibility of child care, but also the quality of child care.
For kids growing up today, their competition is growing up on five, maybe six different continents. They need to be ready in a way that you and I never had to be. Competition is more intense, more complex, and things like curiosity and imagination and creativity — those sort of things that will be an essential part of the workforce going forward — those things can be developed, encouraged or stymied at the earliest years.
Studies show that what happens during those early years literally affects the architecture of the brain.
Several governors, including ours, are talking about expanding pre-kindergarten. But not a lot of districts actually offer pre-k.
A lot of people say they don't want to burden the next generation with debt. I never quite hear them say, "but we don't really consider burdening them with an inadequate education level." I think that is a dominant concern. I'm not suggesting that everything requires new money. In some cases it's learning from other countries that are beating us in educational performance, and that's an increasingly growing list.
Early education is a long-term investment, and the rewards are distant. How do you convince people that this is something that has to be done?
I think the early education community people — and I'm not speaking about the people in Syracuse — made a strategic mistake. Whether you like to think of it this way or not, early education is a product, and it needs to be marketed. Way too often the early education community has put itself out front in talking about the importance of the issue. They're early educators, what would you expect them to say? We should take people who are not directly tied to early education and put them out front.
You've got groups like the U.S. Chamber of Commerce (and other national business groups) talking about the importance of early education and why business needs to be involved.
And then you have two other groups that people don't normally think of — the law enforcement community and its "Fight Crime: Invest in Kids." These aren't warm and fuzzy people, and they're talking about the importance of early education. If you can increase high school graduation rates across New York by 10 percent, you can reduce serious crime ... And one of the most effective ways of increasing graduation rates is making sure kids get a good start to their education careers.
And the last group — Mission: Readiness, a group of senior retired military men and women, put out a report called "Ready, Willing and Unable to Serve." What percentage of Americans between 17 and 24 do you think don't qualify for military service?
It's going to be a high number.
Try 74 percent. In some cases it has to do with physical limitations. But we're in a different kind of military mentality right now. We need to be able to out-think the enemy. We need to be able to creatively make decisions on the battlefield. We need not just smart weapons but smart troops. Quality early education is a matter of national security.
So we've got economic arguments, we have a public safety argument, we have a military argument. We need to get those people out front and get the early education people to take a step back. ... You need to put together the right combination of messages. ...
You said before that the payoff for the investment of funds in early education is long term. If we have men and women making decisions on funding who can't see past the next election, we're in bad shape.
We need men and women making decisions who can understand that the payoff on this will not happen by the next election, may not happen during their entire length of service, may not happen until they're dead. But what better legacy can you leave behind than an America that is as strong or stronger than the one you inherited?
What about businesses? How much are they doing in terms of child care for their workers?
I've seen companies that are highly committed — for enlightened self-interest. If they are convinced they get more productivity out of their employees if they support early education, they're not doing that because they love the kids so much as it helps their bottom line. I understand that. But my observation has been that on a one to 10 scale it varies from 0 to 10.
Is it more important to you to see the public sector become involved in this or business?
I think the impetus for an overall American movement in that direction will come from the business community fully embracing it. Not all of business gets it. A lot of business does not. I think the businesses that get it the most are the ones that are knowledge-intensive and that are going to require people to do more than routine jobs.

---

Knowledge Has a Price
Castle Rock, Colorado
December 2, 2011

Column by Jamie LaRue
I've been presenting this week to librarians, Friends organizations and board members in North Carolina. Speaking with me has been one Bill Millett, a consultant who does a lot of work with libraries.
Millett is a former economic development person, and he has some interesting things to say about that. For a long time, he noted, the Carolinas were winning the economic development game across the nation. They were landing one big company after another. Why? In no small part because they had cheap labor.
But that's begun to change. Some of those companies are leaving. Now, the competition isn't just national, it's global. There is no way that any place in America can keep providing the cheapest labor in the world.
More to the point, that's not even what companies are looking for anymore. They want skilled labor. He talked about a company in Dallas that moved overseas because they had 5,000 vacant highly technical positions — and not enough qualified applicants.
We know that China and India are spending a lot of time and attention on education. Their instruction is now heavily focused not just on Science, Technology, Engineering and Math (the so-called STEM disciplines), but also on developing the creativity of young students. Maybe you've seen the numbers: there are more people in the top 25 percent of their student population than we have students.
Amid the campaign talk about American exceptionalism, it might behoove us to notice that we're not even in the top 20 of international student performance (according to the Organisation for Economic Co-operation and Development's Programme for International Student Assessment). In Colorado, a quarter of our students aren't graduating from high school — half of them, in Denver, our capital. National research suggests that we may be raising the first generation of Americans who will be LESS educated than their parents.
To Millett, this willful erosion of what he calls our "knowledge infrastructure" — the investment in early literacy, through higher education, to the continuous retooling that will be necessary in a global economy — is a kind of treason. Our leaders are frittering around with pointless political gotchas when the livelihood of our children and grandchildren, and our standing as a nation, are imperiled.
He tells the story about a company that relocated to Charlotte some years ago, bringing 1,200 jobs with them. He writes, "Charlotte was a finalist along with Atlanta, Dallas, Tampa and Nashville. On the day that he announced that Charlotte had been selected, the company president said that all of the cities had much to offer. What made Charlotte the winner were a few factors that distinguished it from the competition, among them the quality of the Charlotte-Mecklenburg Public Library."
Since then, of course, that library has closed branches, laid off staff and shut down a series of award-winning programs. The problem? Funding.
Millett, a Baby Boomer, said, "People who served in World War II are now known as the Greatest Generation. How will our generation be remembered?"
The Greatest Generation responded to the threat of Sputnik by putting man on the moon.
We never went back. These days, even our upper atmospheric shuttles are all worn out.
Which country will launch tomorrow's satellites? Where will they learn the skills and the attitudes that build confidently toward a better future?

---

Business, Military Leaders Singing Praises of Early Education
Cadillac, Michigan
June 4, 2011
To get ahead in business, it helps to get an early start.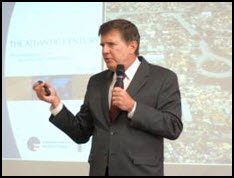 Consultant Bill Millett believes we should start at birth – by promoting early education.
Millett, the president of consulting firm Scope View Strategic Advantage, gave a presentation to local business, non-profit and government leaders as part of a lecture luncheon at Baker College recently. The program was presented by Baker College, the Wexford-Missaukee Great Start Collaborative, and the Cadillac Area Chamber of Commerce.
Millett said that although the United States may have been a frontrunner on the world stage during the 20th century, today, American children will have to compete with children growing up on five continents.
To put the matter in to perspective, Millett said as many as 28 percent of students in India qualify as bright students, while that description applies to about 25 percent of students in China.
"They have more smart kids than we have students. We have no American kids to waste," Millett said.

In introducing Millett, Chamber President Bill Tencza stressed the topic's importance to the community.
"This is a ground zero issue for business," Tencza said.
Millett claims the problem lies not only with government, but also with our culture. When Microsoft founder Bill Gates visited Vietnam, he was given a rock star's welcome, as compared to American youth who would rather idolize, well, rock stars.
Millett used the metaphor of investing to explain how focusing on early education, making children ready for kindergarten, will pay off later with compounded results.
Judy Samelson, the CEO of Early Childhood Investment Corporation, which supports Great Start pre-kindergarten education in Michigan, pointed out that it costs the state $100 million each year to hold back 11 percent of its kindergarten students.
Millett called upon business leaders and others outside of the field of education to speak up for early education because the first years of a child's life comprise a launching pad upon which future success can grow.
As an example, Millett cited a statement by number of retired military generals, including former chairman of the Joint Chiefs of Staff Henry "Hugh" Shelton, that as many as 72 percent of Americans age 17 to 24 are not fit for induction into the military for intellectual, physical, or moral reasons, such as a criminal record.
A report helmed by former Michigan Gov. John Engler found the country as a whole has not adequately committed to funding early education. Quality early education, meaning making sure children are prepared to enter kindergarten, also has the support of the U.S. Chamber of Commerce and the Business Roundtable, which is made up of top leaders of the nation's corporations.
The Committee for Economic Development has identified strong preschool programs as more likely to boost the economy than tax abatements, since luring business through tax incentives benefits individual states, but offers no benefit for the nation as a whole.
Millett also gave credit to Sen. Darwin Booher, who has been asked to chair the P-20 Committee which will explore ways to provide for state education budgets based on the greatest need and impact instead of making appropriations based on where the revenues are derived from.
Finally, Millett asked local leaders to take action, rather than nod in approval like desktop bobbleheads.
"We need action figures, not bobbleheads," Millett urged.
Consultant Bill Millett believes that supporting early childhood education is not only a matter of national security, but is also crucial to providing the kind of innovation American business needs to be competitive in a global economy.

---

Howell, Michigan
April 31, 2011
Editorial
Rich Perlberg, General Manager and Executive Editor
Gates or Spears?
Here's today's question.
Let's say that Bill Gates was going to make a public appearance in Brighton tomorrow at the same time that Britney Spears was going to be in Howell. Which would be the greater draw for Livingston County students?
As he asks that question, North Carolina consultant Bill Millett is showing a slide of hundreds (thousands?) of Vietnamese students greeting the Microsoft Corp. chairman as though he were a rock star. Here in the United States, he suggests, it's Britney Spears who gets the over-the-top reception.
Millett spoke Friday morning at Crystal Gardens in Genoa Township on the impact of early childhood education on economic education. His message: Not only is early childhood education the morally right thing to do, it's an imperative economic development tool that we as a nation have been ignoring with dangerous consequences.
He argues that every dollar spent on early childhood education gets paid back eightfold, a return on investment that attracts even the most jaded businessman. "Early childhood education is a better economic strategy than tax abatements," he said. Businesses, no longer tied down by manufacturing plants, are more interested in a vital, innovative and creative work force.
"In a global world, successful companies go to where the talent exists," he said. "It's not how well you compare in Michigan with the rest of the United States, but how well you compare with other countries."
He was preaching to the choir Friday as many in attendance were tied to the Livingston Promise Coalition, which hopes to raise enough money to guarantee preschool education opportunities to every 3-year-old and 4-year-old in the county.
Such initiatives are necessary, said Millett, if we are to compete in a world where, just by sheer size, countries such as India and China have more honor students than we have students. Those nations, he argues, believe their youngsters are more driven than ours. Millett doesn't disagree. We've lost our standing as the world's most educated work force, he said, and the gap continues to widen.
He lays much of the blame on outdated educational systems, poor priorities and families who are either dysfunctional or complacent. Our kids watch TV or play video games or, worse, are in dysfunctional families and suffer from serious neglect or abuse. In many cases, we have parents who just don't know how to parent.
While other nations attract their teachers from the top third of high school classes, he claims we get only 23 percent from that group. It's a question of value, he said. Other nations treat teachers as essential resources. We say, "Those who do, those who can't teach."
Furthermore, based on misguided political schemes, we emphasize the wrong thing. Precious time in a classroom is wasted "teaching to the test" and memorizing facts that will not be helpful in the future.
"We don't need to teach kids how to memorize," he said. "We need to be teaching them how to think."
The ramifications are serious. We are educating foreign students who leave the country because of tighter immigration laws or because there aren't enough jobs here.
Military leaders say that the lack of educated service members presents a national security risk. In a short talk after the meeting, Millett referenced a study that says every time you reduce the high school dropout rate by 10 percentage points; you prevent more than 100 murders.
While all levels of education are vital, he is part of a growing contingent that stresses that nothing is as productive as early childhood education.
Over lunch last week, Howell Public Schools Superintendent Ron Wilson told me that educators believe that a significant indicator of future success is whether or not a child has grade-appropriate reading and math skills by third grade. Since too many children reach kindergarten without basic learning or social skills, it's easy to agree with Millett when he says the United States has never "ponied up" for early childhood education.
"Every child from the earliest steps of life needs the opportunity to capitalize of their potential," he said.
It's an economic strategy and, for many, it's the most basic of human responsibilities.
Millett, in fact, referred to author and cultural critic Neil Postman, who said, "Children are the living messages we send to a time we will not see."
Millett and others are wondering what type of message will be sent.

---

Southern Pines, NC
April 22, 2011
Plans for Southern Pines Library Tied With Long-Range Vision
The Southern Pines Town Council has adopted a strategic plan for the public library that is rooted in the town's Comprehensive Long-Range Plan, apparently a first in North Carolina.
"It's unique in North Carolina and very unusual from a national perspective," said Bill Millett, a Charlotte-based consultant hired by the library to facilitate the planning process. "I have never seen anything done quite this way."
Essentially, a steering committee used the town's vision as its starting point, identifying those parts of the Comprehensive Long-Range Plan where the library has "a clear responsibility to play a role and make a measurable contribution," according to the 2011-2015 strategic plan that was unanimously adopted by the council last Tuesday.
"As we saw the town's planning process unfold, it became apparent that it was an extensive effort, covering much more than land use," said Lynn Thompson, director of library and information technology services. "It just made sense to build on and support that work. As a department of the town, the library's programs and services need to support the overall goals and vision of the town's citizens - as expressed through the Comprehensive Long-Range Plan."
The steering committee determined that the library had "an essential and critical part" in helping the town realize its vision for downtown and shopping, jobs and economic development, public facilities and services, education and public involvement. The strategic plan "is a direct extension of the town's blueprint," it said.
"Tying the strategic plan in from the get-go is the best way for the town to determine the return on investment," Millett said. "But the completion of the plan is just the beginning of the strategic process."
Now, the plan must be implemented and updated over the next four years by Thompson and her staff. "I'm glad Lynn recognizes that fact and is already moving toward implementation," said Millett, founder and president of Scope View Strategic Advantage, which has worked with 14 other library systems across North Carolina, among other clients.
Thompson said Millett brought an invaluable perspective to the process. "Not only did he have a background of working with other libraries, but also his work in economic development with the private sector kept us focused on defining measurable objectives and articulating the services the library provides in supporting the economic vitality of the town," Thompson said.
The library's top goals for the next year revolve around meeting technology, space and communication needs.
"There is no space or appropriate furniture to add separate computer stations, and we have maxed out our ability to meet the computer needs of our customers," Thompson said. "Since we have wireless access, we are planning on installing additional power outlets for laptop computers and will be working on a funding proposal to purchase netbooks to loan out in the library to people who do not have laptops.
"We are also aggressively weeding the library collection to reallocate space to accommodate more CDs and DVDs, and to increase the turnover rate of the collection. We will launch a Facebook page and begin work on a library marketing plan to improve communication with citizens about programs and services."
Mission Updated
Since a complete reassessment of the Southern Pines library's vision, mission and plan had not taken place since 2003, Thompson applied for a $20,000 planning grant in February 2010.
The grant, which came from from the Institute of Museum and Library Services under the provisions of the federal Library Services and Technology Act (LSTA) as administered by the State Library of North Carolina, was awarded last July. "Other contributions to the plan were in staff time and minimal funds for supplies, which were absorbed in the library budget," Thompson said.
Thompson and her senior staff met with Millett for the first time in August, while the 14-member steering committee was recruited in September, the same month the library conducted a customer survey both in-house and online.
Millett used the survey results to create a "snapshot" of current library services and discovered that:
Ninety-one percent of the 102 respondents indicated that they "always" or "frequently" find what they were looking for at the library. ScopeView has never seen a higher rating, Millett noted.

Ninety-seven percent are "extremely" or "very satisfied" with the library's overall services. Based on Scope View's experience with other library systems, "these are exceptionally high levels of patron support," Millett said.
The ratings of the library staff were even more positive than those for the library's overall service. "The percentages are especially impressive in that any tax-supported public service institution is vulnerable to being seen by some of its customers as unresponsive, indifferent or even rude - a factor that is accentuated in the economic conditions of 2010," Millett said.
The library also exceeds the North Carolina average on several matrices. For example, the circulation of books per capita is 7.4 versus a state average of 4.73. The number of books per capita is 5 versus 1.75, and the number of library visits per capita is 8.5 versus 4.72.
"The library is a bridge or connection to the local educational services and providers as well as a resource for lifelong learning for all ages," Thompson said. "This is why the committee chose the tagline 'The Public Library - knowledge for a lifetime and beyond' for the library mission statement."
'True Gem'
The steering committee met four times between September and March to finalize the strategic plan, a public hearing was conducted at the library on March 31, and the plan was formally presented to the council last Tuesday.
"Let me verify what a true gem of a library we have here in Southern Pines," committee member Hugh Mensch told the council before its 5-0 vote last week. "I think it's a marvelous plan and recommend its adoption."
Council member Fred Walden, who served on the committee, said the planning process gave him "a greater appreciation of the library staff and volunteers for what they do." "It was a great process," Walden said.
Millett agreed. "We did not have a single meeting where somebody was quiet," he said. "Everyone participated throughout the process. This was a committee that in a very real way shaped the final outcome. You typically don't see that."
The plan notes that the library "will continue to collect data on both usage and satisfaction with services and programs, and will use that information to review and adjust plan objectives."
Thompson will also report annually to the town council about all completed objectives, the progress of any unfinished objectives, and any new objectives that have been added as conditions have changed.
"The guiding principles of the plan are specificity in defining objectives, transparency in sharing data and accountability in reporting results," Thompson said. "The staff and I will do all we can to ensure that town citizens receive the best return possible on the investment they have made in the library."

---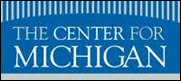 SPECIAL REPORT: Don't Count Out Early Education
February 3, 2011
How's this for a contrast?
Last year, the Early Childhood Investment Corp. (ECIC) released a study showing that Michigan's budget saves a whopping $805 million because of pre-K programs.
And yet in fiscal 2010, Michigan was among the 17 states that put their programs on the chopping block. And only five states cut early education spending more percentage-wise than Michigan, according to a report by the National Conference of State Legislatures (NCSL). Michigan slashed its budget by 20 percent.
Now, as new Gov. Rick Snyder prepares his fiscal 2012 budget with a massive budget deficit looming, pre-K supporters are anxious about what lies ahead. Snyder supports pre-K, often stressing on the campaign trail that we need to have a P-20 approach to education from preschool to post-graduate degree. But not all lawmakers are convinced we can afford to keep spending on the ECIC, a preschool clearing house, and Great Start, programs for children from birth to age 5 in moderate-income families.
"Early education has to be considered not as a 'nice-to' but as a 'have-to,'" said Bill Millett, businessman and founder of Charlotte, N.C.-based Scope Strategic Vision. He has given presentations on early education across Michigan and testified before legislative education committees.
"We need to get to the point when it stops being a conversation about whether early childhood (education) is a good investment," agreed Joan Blough, ECIC vice president. "We don't have that argument about K-12."
There's no shortage of studies showing that early ed pays dividends. The ECIC's research conducted by Minnesota-based Wilder Research shows it saves $221 million in remedial education for K-12. And there's $584 million less needed for juvenile justice, welfare and child care subsidies. Savings grow to $1.15 billion when factoring in an additional $347 million that doesn't impact the budget, such as in losses to victims of violent crimes.
Support Broadening
Increasingly, pre-K defenders aren't just the usual suspects in the education and human service fields. Business leaders get it, both in Michigan and across the country. Executives from Ernst & Young, CMS Energy and PNC Bank recently did a commercial for the ECIC, and national powerhouses like the Business Roundtable and U.S. Chamber of Commerce have endorsed an early education focus.
Why? It's an economic development issue. Businesses need a well-trained workforce – and the best and least expensive way to achieve that is through quality early education, many experts argue.
"Even if you hate kids, can't stand kids, as a business owner, a taxpayer, you have an incentive to move forward with early childhood education," Millett said. "The stakes are so high. It's about what kind of Michigan do you leave behind."
Michigan's Future
Michigan is already starting to "reimagine" early education — and education in general.
State Superintendent Mike Flanagan and the Michigan Board of Education have initiated Project Reimagine, which strives to create a culture of achievement for the state's schools and students. One of the premises is that officials don't expect any funding increases for the next five to 10 years, so a creative approach to improving education is needed. And if there's a way to find efficiencies while doing so, all the better.
Early education is a key component, something Flanagan has stressed. The department is hoping to secure $50 million from the federal government to jumpstart initiatives in this area for school districts. But districts would have to figure out how to pay for programs themselves, which is no easy task in these fiscal times.
Advocates would like to see program expansions, of course. A Michigan State University study found that another 35,000 low-income 4-year-olds are eligible, but aren't served, by a Great Start Readiness Program or Head Start. Kresnak pegs the number at 40,000. But including these kids comes with a big price tag – about $300 million.
"We have to convince the Legislature and the new governor to do so, because it will save that much and more long after," Kresnak said.
Michigan could pursue private funding, like Oklahoma, to make some expansions. Certainly, a number of business leaders are on board with early childhood programs and might be an untapped resource.
Another option would be shifting more focus in existing funding to high-quality programs for kids zero to 3, like many states have. That's the most critical developmental time and has the biggest potential benefit, both in children's health and learning and cost savings.
But perhaps the most fundamental task at hand for advocates is educating Michiganders and policy-makers about the value of early childhood education. There's still a debate about its efficacy. Millett said that the business community should lead the charge, something that he said should resonate in Michigan.
"Workforce development doesn't start in community college, high school or middle school," Millett said. "You get a young child ready with imaginative, collaborative and articulate skills and he has a greater chance of success."

---

Wednesday's Action / Alaska Senate and House
Joint Hearing, House & Senate Education Committees
Bill Millett, president, Scope View Strategic Advantage (http://www.scopeview.net/) gave a presentation to the committees on the importance of quality early childhood education. Mr. Millett made a very compelling argument for the importance of early childhood education. His first PowerPoint slide said, "Great, some darn guy from North Carolina with his lousy PowerPoint telling us how to do things here in Alaska."
Mr. Millett said the case for quality early education has not been advanced on a national level very well. Why spend time talking about early education? We used to be the best, but that is no longer true. There are specific things that the country needs to do, and some are very controversial. Quality early education is one of the best investments than can be made. He started hearing the phrase
"too big to fail." He understands why they had to invest in banks that were too big to fail, but he doesn't understand why early education is not invested in.
The problem with early education is you can't sell it with a warm and fuzzy message. The mistake of early education is it's been represented as the right thing for kids. He has no problem with that, but if you're trying to sell the issue as being the right thing for kids, you're not showing the full picture. He's spent most of his time in the corporate world. Early education is a competitive issue - competitive for Alaska and for the rest of the world. Quality early education is a matter of national security. Your kids and grandkids will grow up in a world unlike anything we've ever experienced. Your kids and grandkids competition is from all over the world. The odds are a lot worse for us than they used to be.
The competition for Alaska's kids is in India and China. The smartest 28 percent of kids in India is more kids than are in the United States, and the same goes for China. The young people of Alaska need to be developing skills that will allow them to succeed. Mr. Millett said there is a fairly convenient set of whipping folks, which is firing bad teachers, but the blame is something to be shared. The problem is not only with schools, but also with families and a culture that undervalues education. The U.S. Chamber of Commerce said there are four pillars of workforce development, and the first one that sets the foundation is early childhood development. The U.S. is 5.8 percent of world's population. Robin Li, founder of Baidu, the Chinese Google, was on the Stanford campus six months ago and said with all the Chinese
web surfing, it is likely they will be able to conquer new problems before Americans will.
Mr. Millett said the Business Roundtable advocates for early childhood education and for states and the federal government to make high qualify early education a priority. In 2003 they issued a paper, "Early Childhood Education: A Call to Action from the Business Community."
Mr. Millett said one of the things he likes best about Best Beginnings is it's about local control and local accountability. The rate of human capital return from educational investments is highest in preschool, but as a nation, we tend to invest on the back side, and not on the front side. Alaska is 50th out of 50 states for high school and college graduation rates.
Mr. Millett said all 50 states belong to the Education Commission of the Sates (ECS). The issue is nonpartisan, and there's consensus on it. The executive director of ECS is Roger Sampson, former commissioner of Alaska Department of Education and Early Learning.
Mr. Millett said they're setting the bar awfully low if Alaska just compares itself to the rest of the country, and not the rest of the world. Young kids need creativity to thrive. Like many countries, they have no policy to foster creativity. He recommended a book called "Closing the Innovation Gap" by Judy Estrin. No Child Left Behind was well intentioned, but it is teaching to the test and forcing teachers to teach to a very narrow curriculum. The end result is that the U.S. will be producing a nation of robots. He said the country that succeeds going forward is the country that can best generate ideas.
Rep. Wilson said she hopes Mr. Millett can talk to the Finance Committees.

---

Turning Things Around Won't Come Overnight
Howell, Michigan
October 23, 2010

Businessman Bill Millett said he believes the road to the United States catching up to the rest of the world is a long one that begins with early childhood education.
"We can't turn around a system it took years to make mediocre in two to three years," Millett said. "It took longer than that for other countries to pass us, but they did it. What needs to happen is people need to make the long-term investment for the betterment of the future.
"If that long-term investment isn't made, we'll be even further behind in 20 to 30 years," he added. Millett, president of the North Carolina-based strategic-planning firm Scope View Strategic Advantage, cited several pieces of research linking the investment in early education to long-term economic benefits while speaking Friday at the Livingston Educational Service Agency intermediate school district.
Millett's presentation was hosted by the Livingston County Great Start Collaborative — a group of education, nonprofit and business leaders who advocate for support of early childhood education.
During his speech, Millett discussed a number of national and international case studies and statistics that show education and skill level primarily determine a person's earnings potential, as well as the economic and social costs incurred when education is lacking. Millett also touched on the No Child Left Behind program, saying teaching to tests has dramatically slowed the education process.
"Teaching to a test is fine when it is part of the process, but it's the entire process. The U.S. won't lead the country in the future by producing robots," Millett said. "We need more creativity to be taught in school and more of a focus on innovation and independent thinking. All we're teaching our students to do is memorize and spit out facts," he said.
Millett talked at length about the rise in educational standards in foreign countries that is drawing business away from the United States, saying the nation is falling behind in fostering creativity among students.
"When I was growing up, people wanted a United States education. Now, people want a world-class education," Millett said. Millett said advertisements saying jobs have been lost offshore are somewhat false. The lack of qualified workers in a number of areas, Millett said, has led to more automated services being utilized.
"We need to take a look at the countries that are beating us," Millett said. "We can't be too proud to steal ideas and learn from the countries that have passed us by."

---

Boone, North Carolina
August 26, 2010
Appalachian Regional Library System Completes Five-Year Plan
The Appalachian Regional Library System recently completed a Five-Year Plan using funding of $20,000 provided by a grant from the Institute of Museum and Library Services.
The Appalachian Regional Library system—which is comprised of Ashe, Watauga and Wilkes counties—recently completed a Five-Year Plan that includes improvements and long-term goals for the system through the year 2014.
Development of the plan was the collaborative effort of the system's library management staff, including Ashe County Librarian Jim McQueen, Watauga County Librarian Monica Caruso and Wilkes County Librarian Jennifer Murray; ARL Regional Library Board members; Dr. Pat Mitchell, Ashe County Economic Development director; Karen Moll, then-president of the Ashe County Friends of the Library; Pat Alexander, member of the Watauga Friends of the Library; and Andrew Casey, former chair of the Wilkes Chamber of Commerce Board of Directors. Bill Millett, president of Scope View Strategic Advantage of Charlotte, was hired to direct the planning process.

The plan was approved July 15 by the Appalachian Regional Library Board, and consists of multiple objectives for the regional system and the individual libraries within each county. Funding was made possible though a federal Library Services and Technology Act grant of $20,000 from the Institute of Museum and Library Services that was awarded by the State Library of North Carolina.

According to the Five-Year Plan, "The Appalachian Regional Library promotes the power of knowledge, the joy of reading and the spirit of imagination; supports and encourages life-long learning; and contributes significantly to the sense of community and the economic well-being of Ashe, Wilkes, and Watauga counties." The objectives established by the library system support this mission statement, with the overall hope that each library will "further its mission of service to the community."

The plan has 12 objectives that include goals in advocacy, collections, customer experience, economic development, facilities, finance, information services, marketing, partnering, programs, staffing and technology enhancement. According to 2,000 patron survey results compiled by the library system, the satisfaction rate with each county's library was over 50 percent, with Ashe County at 63.1 percent, Watauga County at 61.3 percent and Wilkes County at 57.8 percent.

Individuals surveyed were, however, given the opportunity to list new ideas or changes they would like to see within the library, staff, services and programs, some of which are reflected in the system's Five-Year Plan.

In Wilkes County, patrons asked for "longer hours and more days" because, for example, "kids who do not otherwise have access to computers have trouble completing homework assignments on days [the] library is not open." In Ashe County, patrons also wished for extended hours, and in Watauga, a popular response was a desire for more new books, computers, updated software and DVDs.
It is evident the library system did listen to the requests of patrons—in Ashe County, the library will extend hours of operation from 48 to 56 per week beginning in fiscal year 2011-2012. The Wilkes County Public Library will also advocate for a return to a 60-hour operating schedule with full staffing and the return of any services lost due to budget cuts beginning in fiscal year 2011-2012. The regional system overall will offer training to the public in the use of new technologies, including downloadable media, beginning in the fiscal year 2010-2011.

Other important items in the plan include the hiring of at least one bilingual (Spanish/English) staff member in each main library by 2015, the production of a literary arts magazine each year featuring work from teens and children in the ARL regional service area, the development of a public relations plan to promote programs within the community and the continuation of advocating for increased funding from counties to better support library needs of the community.

---
Technology's Dramatic Impacts on Company / Consumer Relationships
Guest Editorial by Bill Millett
President, Scope View Strategic Advantage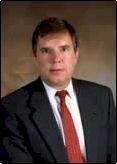 In a time when ripples of economic change have become tidal waves, organizations today are more vulnerable than ever if they fail to properly assess the new realities and position themselves accordingly. The trip from prosperity to crisis can be a short one, indeed. One of their major challenges is adjusting to technology's profound effects on the company/consumer relationship-- to the distinct advantage of the latter. Customers are largely setting business agendas and defining products and priorities. They have information and power like never before. And, they're using them effectively.
Three distinct, yet interrelated, elements are at work here: mass customization, e-commerce growth and the diminished importance of location. Individually, each factor is substantial. Collectively, their impact is enormous.
Mass markets have been supplanted by aggregated markets of one-- the needs and desires of individual customers. Divided into literally thousands of segments, consumers drive the economy and individuality rules the day. Mass customization means not only personalizing products and services for individual customers, but maintaining mass production level prices. Organizations that haven't grasped this approach can be certain that competitors have.
Twenty-five years ago, Burger King nailed it: "Have it Your Way." Today's successful companies embrace the same principle, Dell for example. Burger King's customers wanted custom burgers, Dell's want custom computers. The approach is the same. It's just that onions, lettuce and mustard have been replaced by items like hard drive size, clock speed and motherboard configurations. Not only do special orders not upset such companies; those companies have built their entire organizations around them.
It wasn't that long ago that the programming heads of three television networks were among the most influential people in the country. They determined what the rest of us saw and when we saw it. No more. Through Tivo and other digital recording devices, a rapidly growing number of us decide what to watch and when we want to see it. And, oh by the way, we'll zap the commercials while we're at it. It is interesting to note that Tivo's tagline, "Watch Television Your Way" sounds like more than a coincidental version of Burger King's a quarter of a century earlier.
E-commerce has dramatically affected most business sectors. Rowan firms no longer compete primarily against themselves or counterparts in Charlotte, Winston-Salem and Greensboro. They fight for market share on a national and sometimes broader scale, and the pace of this online economic combat has accelerated sharply. The National Retail Federation states that online sales totaled $115 billion in 2003, an increase of 51% from the previous year. E-commerce comprised 5.4% of all retail sales, a figure it took catalog sales more than a century to reach. Customers are less loyal to specific companies and brands. They shop around more than before, the geographic scale of their search is the country or broader, and they can do it all from a keyboard in their home.
It's not enough for Rowan firms to have their own web sites. They must make sure that the sites contain such critical components as ease of transaction, real-time pricing and inventory information and timely product support. All of this is useless, however, if potential customers never get to the site. A great site unseen is no site at all, and it has become increasingly difficult to ensure that your site is placed so that consumers using Google, Yahoo or other search engines to find a product actually get to your information.
Even if they do, e-competition can seem overwhelming. Recent years have seen the development of commercial site aggregators-- retail search engines that list not only dozens of companies offering a product, but the actual price that each is quoting, and often reviews by customers as to the experience of dealing with that organization. One of the largest aggregators is BizRate Shopping Search, which two years ago listed 5 million products from 3,300 merchants. At latest count, it covers 32 million items from 47,000 companies.
The resultant price and service pressures on local companies are substantial. That they have a Rowan County zip code barely matters unless they can provide an overall customer experience that heightens customer loyalty and makes the ideas of shopping elsewhere unnecessary or unattractive.
Companies must examine the entire scope of their operations-- both in actual and cyber space-- from the customer perspective. Simply put, it's not good enough to be pretty good. Any business aspects that aren't geared to consumers and that don't enhance the customer experience must be changed if local residents are expected to, in fact, "Shop Rowan First."

---

Public Library Shines in Recent Assessment
Kinston, NC
October 4, 2010
The great film-maker Cecil B. DeMille once observed:
"The person who makes a success of living is the one who sees his goal steadily and aims for it unswervingly. That is dedication."
A part of the success of the Kinston-Lenoir County Public Library — and the Neuse Regional Library system — stems from setting realistic, sometimes even lofty goals, and working toward them with tenacity.
All public libraries must develop five-year plans and file those plans with the State Library in Raleigh. As a result, the staff and directors of our library system are constantly assessing where we are — and where we want to be.
As part of that assessment this year, the library engaged the services of Bill Millett, President of Scope View Strategic Advantage, a consulting firm, to do a needs assessment for our system.
One of Millett's guiding philosophies is:
"Today's economic climate demands an increased public sector accountability and specificity regarding the use of public monies. Accordingly, it is imperative to evaluate library operations from the perspective of the return on investment that communities and citizens receive on the tax dollars."
His preliminary findings should make area residents proud of the job our local public libraries are doing — and grateful for the high return on investment taxpayers are receiving.
Millett listed "Ten Noteworthy Findings" in the statistical report it delivered to library administration and directors. Fourteen regional library systems operate in North Carolina. These findings are based on an analysis that first compares the Neuse Regional Library System to three other "peer" systems of approximately the same size and comprising similar service areas. Then the analysis compares the Neuse system to the remaining regional systems.

The most significant findings shows 78 percent of the Neuse Regional Library's service population are registered library users. That figure is "significantly above" the percentage of registered users in the other regional systems, and second only to one other system. Simply put, the Neuse Regional Library is second in the state in percentage of library users.
In 2008-2009, our library had the second highest visits per capita — and was third overall in the state. The cost per circulation was the lowest among our peer systems, and the volumes circulated per capita scored second in our peer cluster.
The Neuse Regional Library offers 99 public access computers. The consultant observed: "Neuse is the highest by far among the peer cluster, a strong indication of its recognition of its role in the digital age where the most relevant libraries are those that recognize they are hybrid institutions — providing access to information and materials in both print and electronic formats."
In fiscal 2008-2009, 34 percent of the Library's operating revenues came from the "Other" category — revenue that came from other than local, state or federal funding.
Millett observed: "None of the other thirteen regional libraries came close to this figure, and in fact only one of the 77 systems in the state exceeded it – the much larger Charlotte-Mecklenburg Public Library."
Our library is consistently near the top in performance in nearly every category. The taxpayers who foot the bill can know that they are receiving top return on their investment. Our library is one of the best examples of tax dollars at work.

---

Coldwater, Michigan
May 3, 2010

2010 Economic Summit Set

Annually, the HomeTown Competitiveness Team works with other economic and community entities to provide Branch County and the surrounding areas the opportunity to hear a review of the latest economic and redevelopment information. The 2010 Economic Summit will be held on Wednesday, May 12, from 9 a.m. until 2 p.m. at the Dearth Community Center at the Branch County 4-H Fairgrounds.
This event is for the business community, area governments and other area economic developers to not only receive these updates but offers the opportunity to network with those present to determine ways the county and surrounding areas could utilize the information provided for the betterment of the area.
Each year an update on the area is provided by the Upjohn Institute. This year there will be a little twist to the presentation when Dr. Timothy Bartik, senior economist for Upjohn, will discuss what Michigan should be doing to promote long-term economic development. Dr. Bartik has been with the Upjohn Institute since 1989 and is responsible for developing and conducting research on state and local economic development and labor markets.
Dr. Bartik will also be giving those present recommendations on what we as a community, area and organization can be doing during these challenging economic times.
The keynote luncheon speaker will be Bill Millett, founder of Scope View Strategic Advantage, a company that works with private, public and non-profit organizations and companies with strategic planning and implementation, needs assessment, change anticipation and positioning, board/staff training and workshop/retreat planning and facilitation. Millett will discuss why it is important for us to pay attention to early childhood initiatives as business and community-minded individuals and will provide examples of how other communities have used early childhood to increase economic development as well as give us practical ways we all should be working together to assist with these initiatives.
He has more than 25 years experience includes serving as executive director of two regional councils of governments, including the largest in South Carolina; senior vice president in charge of economic development for the Charlotte Chamber; and principal for business development for a major design firm. Millett's service on the boards of major national organizations with their own staffs allows Scope View to relate to issues from both a policy and managerial perspective — a major asset in launching strategic initiatives and seeing them through.

---

Howell, Michigan
March 25, 2010

Launching A Workforce

For businessman Bill Millett, producing a viable work force is like a space shuttle mission: "If you get the launch right, it increases the chance of everything else going well."
In Millett's view, that "launch" includes an investment that may not be at the top of most business professionals' minds — pre-kindergarten education.
"As a nation, we are dumber than we have ever been compared to the rest of the world," Millett said during a presentation in Howell on Wednesday. "Corporations are looking for places that invest in themselves, and those places don't have to be in the United States." He added: "We have so many of our kids striking out at the plate because they have never been up to bat before. A country producing a minor-league work force will not compete on a global scale."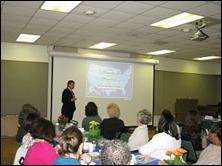 Millett, president of the North Carolina-based strategic-planning firm Scope View Strategic Advantage, cited a variety of research linking investment in early education to long-term economic benefits Wednesday while speaking at the county's intermediate school district. Millett's presentation at the Livingston Educational Service Agency was hosted by the Livingston County Great Start Collaborative, which is an organization of education, nonprofit and business leaders that advocate for support of early education.
During his speech, Millett talked about a variety of case studies and statistics that show education and skill level primarily determine a person's earning capabilities as well as the economic and social costs that occur when education is lacking. In particular, he talked about the decline of the automotive industry, which left many non-college-educated employees out of work, as well as the rise in educational standards led by foreign countries that is drawing business away from the United States.
Millett also cited studies by the Federal Reserve Bank of Minnesota that reveal a child's capacity for developmental skills begins during the first five years of life. Because of that, he said, U.S. lawmakers and business owners would see the largest return on their investments if they more heavily support early education programs. "There is a connection between kids getting ready to go to school and kids getting ready to go to the work force," Millett said. "We need to make the best of every young child, regardless of race, ethnicity or economic status."
Those in attendance Wednesday, including LESA Superintendent Scott Menzel, said Millett's presentation included powerful messages that the majority of the public has not yet realized. "There is a direct connection between investing in early education and long-term economic development and sustainability," Menzel said. "The problem is that the people here understand that. We need to broaden our reach."

---

Muskogee, Oklahoma
March 21, 2010
Regionalism: Competing Successfully In A Global Economy

Guest Editorial
Bill Millett, President
Scope View Strategic Advantage
Charlotte, NC

In today's highly competitive area of quality economic development, no community can afford to try to stand alone. Corporations seeking the right location for new and expanded operations do not view things from that perspective. The more desirable the company, the more likely it is to consider the assets and liabilities of a multi-county, even multi-state region in making its site decision.
Accordingly, Northeastern State University's hosting and co-sponsorship of the regional summit, "Giving Voice to Northeastern Oklahoma," last November could not have been better timed or more appropriate.
Today's global economy rewards larger aggregations of human, financial and other resources. Regional groupings often transcend traditional borders and create new communities of interest, both formal and informal, that combine shared assets, values and aspirations. Importantly, they help rural economies elevate their scales of operation, and make them able to effectively compete with more urbanized areas. The workforce of Sequoyah County by itself would seem almost infinitesimal to many companies. Combine it with workers in the six other counties that participated in the Tahlequah conference, however, and you start to be noticed.
Regionalism is based on understanding that political jurisdictions often do not match real world economic conditions. In an era of ever accelerating rates of change, virtually all organizations face highly challenging circumstances, with significant competition in even the public and nonprofit sectors. In such conditions, static communities and companies fare poorly.
"We must all hang together, or assuredly we shall all hand separately."
Benjamin Franklin's famous words at the signing of the Declaration of Independence are relevant today in the context of communities declaring their interdependence on one another for their future individual and collective economic vitality. Each benefits from its neighbors' strengths; each is penalized by their weaknesses. And while they will on occasion compete against each other for jobs, in the overall analysis they will for better or worse be evaluated as partners by those companies they are trying to attract.
In the 1950's, South Carolina's upstate region was often thought of as hillbilly country, part of America's Appalachian region. Its transformation to a truly global manufacturing center began in 1954 when industrialist Roger Milliken moved the headquarters of his textile company from New York to Spartanburg. Almost immediately, he began courting German and Swiss companies that supplied the textile industry to set up facilities nearby.
The Spartanburg Chamber of Commerce initiated vigorous international recruitment efforts, and neighboring Chambers joined in on the action. A critical mass of European companies located in the region, and they attracted even more investment. Interstate Highway 85 running through Spartanburg, Greenville, Anderson and several other counties became known as the autobahn, a term to which it is still referred to today. The flags of foreign nations line that road as companies fly them on their sites.
Milliken's individual actions, driven by business self interest, started a chain reaction of regional improvements: upgrading education and training in cooperation with state universities and community colleges, creating or upgrading community amenities, developing a new regional airport, marketing the region to Europe and eventually all international companies.
Perhaps the most famous payoff from this regional effort, one supported by most business and governmental leaders in a seven county area, was landing BMW's first-ever factory outside Germany. Today, 12 economic development agencies in that region have common messages and shared publications. They are collectively marketing the region as a whole.
And it is precisely that approach that NSU helped advance with the 2009 Regional Summit.

---

Boulder, Colorado
March 6, 2010
Boulder's Community Foundation looks to close school achievement gap

The vast majority of Boulder County students graduate from high school and go on to higher education, unless those students are Latino or from poor families.
For years, the Boulder-based Community Foundation has tracked this "achievement gap" in its reporting on community trends, and for years, participants in the foundation's civic forum have talked about it as a problem.
Now the Community Foundation wants the community to do something about it by investing in children from at-risk families before they even start school. Instead of waiting for grant applications, the foundation is reaching outside the educational community, trying to marshal support in the business community and looking for sustainable long-term funding for increased early childhood education.
"We wanted to do something that would have the greatest impact on young kids and the larger community," Community Foundation President Josie Heath said. "Over and over again, it kept coming back to us: Getting kids started right was really significant in closing that gap."
The challenge is two-fold, Heath said. First, the foundation has to build awareness of the problem. In conversations, she found that many people don't realize students from low-income and Latino families Then, the foundation has to find additional resources at a time when school districts are making painful cuts, the county has restricted access to preschool subsidies and programs like Head Start have waiting lists.
To build support outside the educational community, the Community Foundation brought in Bill Millett, president of North Carolina-based Scope View Strategic Advantage. Millett has long had a passion for children's causes, but he started to see the issue of early childhood education in a different light a decade ago. Millett worked in economic development, and the companies he wanted to recruit started to ask new questions -- not about water and sewer or tax rates or even local universities -- but about preschools.
"They wanted to know, what's the town's pipeline look like?" he said. "What's the workforce going to be like in 20 years? It was a question of economic survival. It's not that they loved young children."
In North Carolina, where Millett is based, support from the business community was key to getting more public investment in early childhood education, he said. The state implemented a ratings system for preschools, helped pay for teachers to continue their education and get bachelor's degrees in early childhood education and created parent education programs.
Karen Daly, executive director for student success for the Boulder Valley School District, said the district has not done as good a job as it could at helping at-risk students achieve, and doing better depends on reaching kids at an early age. Students from poorer families are less likely to go to a quality preschool, and their families may not understand the importance of reading to the children or knowing how to turn simple games into learning opportunities.
Something as simple as lining up stuffed animals and singing "One bunny, two bunny, three bunny, four" helps children build language, learn about rhyming, which involves pattern recognition, practice counting and develop what's known as one-to-one correspondence, basically the idea that something can represent something else. That last one is a key skill that prepares the brain to learn how to read and do math, Daly said.
"By being in the classroom, parents learn how kids learn, and parents learn how to take play situations and find learning in them," said teacher Isolde Hathaway, who also serves as the school's director.
Hathaway said the foundation's effort to bring more resources to early childhood education will be a challenge in a community that most view as affluent and educated.
"People do not understand who lives in the community," Hathaway said. "The families that I know, people do not even know they exist. It's a big project, to educate our wealthy community about this 15 percent of the population, but they are all our kids."

---
Enid, Oklahoma
February 17, 2010
Ideas for Advancing Enid are dDiscussed at Autry Tech Summit
How can Enid be a better community and attract better jobs?

That and other questions were discussed by business leaders Wednesday during Enid 2025 Economic Development Summit at Autry Technology Center.

William S. Millett, president of Scope View Strategic Advantage, moderated the summit. Participants moved from table to table to discuss ideas for advancing Enid, then each table presented a summation at the conclusion of the morning.

The questions sparked a lively discussion through the morning.

Millett told the group industries considering expansion do not consider positives about a community, but look at their liabilities to find areas they can use to eliminate them. David Burrows, moderator of one group, said societies work together toward a shared vision, but first they must have the vision. "What is the big idea of Enid?" he said.

Communities should celebrate their past, but focus on the future of their community, he said. A number of ideas came from the discussions, including increased wireless capability, increasing incomes and having a vision.

Moderator Marcie Mack said her groups determined the community should continue to support bond issues and build better schools. They also want high-quality child care and training opportunities for employees provided by their companies.

Other ideas included a cohesive-themed downtown area, more retail and a new library. Walking trails also were a topic of discussion, as was the cost of living in Enid. Many groups believed Enid should invest in its children early in life.

One group felt an overriding problem is Enid does not know who it is. There are a number of areas needing addressed, including poverty, differences in incomes and varying age differences. Participants also mentioned Enid has a number of strengths. They said there are a number of groups that work for the improvement of the city, but they often do not communicate. One suggestion from the group was increasing the number of retail establishments and restaurants in Enid to increase the tax base.

Others suggested a subdivision built with Air Force personnel in mind. The subdivision would need to be in an area accessible to and affordable by them. In addition to new retail, they suggested a new library to enhance the community.

The most important piece in Enid is its educational system, including public schools, Northern Oklahoma College Enid, Northwestern Oklahoma State University-Enid and Autry Technology Center.

Many of the groups supported increased recreational and cultural areas, and supported walking trails as well as the proposed arts district.

Later at lunch, Millett presented local city and business leaders with some sobering statistics about how other nations are passing the United States by; however, more investment in early childhood education is the nation's key to becoming an intellectual global leader.

Millett's message was clear. Other countries are quickly surpassing the United States in building their "knowledge infrastructure." And, the United States can only hope to catch up by focusing on providing young children opportunities to start gaining knowledge at a very early level.

"Fifty years ago, we were a cocky lot (in the United States)." Millett told the group of about 75 business professionals. He talked about how that all changed in 1957 when the Soviet Union started winning the space race.

National and military leaders understood that by the Soviets launching the first satellite into orbit, and then beating the United States in putting a man in orbit, the U.S. was at risk in the area of national defense.

The consequences are not much different today, Millett said. The United States' complacency in building its knowledge infrastructure has put the country at economic and security risk, he said. "America is under assault again," he said, and the country and our government continue to be complacent about it.

"No longer do we have the best educated work force in the world," Millett said. "We don't have any students to waste." He commended Enid for its passage of a $99.5 million bond issue last week as a "heck of a statement" that "Enid gets it."

He also commended Enid's Smart Start program through Community Development Support Association, and he pointed out Oklahoma has a strong ranking in early childhood education. He complimented the partnership between The Methodist Commons home and Enid Public Schools in working together to add 4-year-old programs at the facility. The program includes residents of the home helping with the program and providing interaction with the young students.

These factors are key in creating long-term economic viability, he said. Students today will be competing globally, not locally or regionally or even nationally.

---

Tahlequah, Oklahoma
November 4, 2009
Focus on Region to Achieve Economic Success
An economic expert says cooperation is vital in the struggle for future growth.



Forty years ago this summer, American astronauts became the first men to land on the moon, and return. Their success was made possible by 400,000 people, 20,000 companies, and nearly a decade of hard work focused on achieving that goal.
Could this nation achieve a similar objective today?
It's becoming increasingly more difficult, Bill Millett told people attending a regional economic summit Tuesday at Northeastern State University. Millett, founder and president of Scope View Strategic Advantage in Charlotte, N.C., delivered the summit's keynote address. His firm has spearheaded economic and business development for corporations and communities.
This week's summit, the first in a cooperative effort by NSU, the Cherokee Nation and SACC-EZ (Sequoyah, Adair and Cherokee County Empowerment Zone), focuses on "Giving Voice to Our Region."
That's a must in today's economy, Millett said. "In 2009, effective regionalism is not a competitive advantage; it is a competitive imperative," he said.
Businesses make decisions not only on a local basis, but on a regional basis, and, increasingly, a global basis. Years ago, a city seeking to attract a new business to town competed against a few other cities in the region, or perhaps in the nation. Today, it's competing with cities around the world — and frequently, those cities are doing a better job of courting, Millett said. Other countries have an increasingly more educated workforce
"It's not just northeastern Oklahoma against the rest of Oklahoma, or the southwest area," Millett said. "It's you against the world. How do you compete?"
He said America is being beaten, on a knowledge standpoint, by many other parts of the world. Americans can no longer say, "We're Americans, we're here, make way for us and let us through." A regional economic approach is vital, Millett said. "Can you come together as a people? Can you muster the educational resources, can you compile the data?" he said.
Northeastern Oklahoma already has a number of regional entities in place, he noted. The challenge is having those regional organizations work together to ensure growth. "Look around the room. How many people do you know? How many people do you have to introduce yourself to? The more introductions, the less regionalism," Millett said.
The audience consisted of local government leaders, people in the economic field, educators, business leaders and others. When Millett asked if any librarians were present, Jan Bryant, of the Muskogee Public Library, raised her hand. Millett said he considers a good library the equivalent of an MBA in the quality of a community. Preparing leaders begins at birth, he said, and the library is a powerful resource.
America is no longer No. 1 in having an educated workforce. Knowledge and infrastructure will determine the future. "Places that may have been OK 10 years ago, may have thrived 20 years ago, look like this today," Millett said, showing a photo of a crash during a NASCAR race. The top countries in the race are teaching people how to think collaboratively, he said.
Companies look at many factors, with the educational level high among them, in deciding where to locate. They consider the percentage of high school and college graduates in a city, a county, the region.
One place where Oklahoma does excel — and this should be a selling point, more promoted than it is, Millett said — is early childhood education. Oklahoma ranks first in the number of 4-year-olds in pre-kindergarten programs. Companies want to know not only what type of workforce they can expect now, but 15 or 20 years down the road. "The knowledge infrastructure is not kindergarten through university, it's birth to the workplace," he said.
Today, Americans comprise only 5.8 percent of the world's population. "We don't have resources to waste," Millett said. "We can't afford 30 percent of us not graduating from high school." He said China will "nail us" because the country has the numbers and the motivation to do it.
But America has its success stories. Millett pointed to two examples. Six counties in South Carolina have cooperated to attract the highest percentage of foreign investment in any comparable place in the country, including a new BMW plant. And four counties in New Mexico have pooled their resources to form a strong entrepreneurial network, developing new businesses and business people.
Communities must recognize and sell their assets, but they must also recognize their liabilities and move to correct them, Millett said. "Don't say, 'We've got a good workforce.' Everybody says that. Don't say, 'We've got a great place to live.' Everybody says that. Be ready to show that to me, prove it to me."
His last example was a picture of Benjamin Franklin, with his famed remark to the other signers of the Declaration of Independence that they could all hang together, or they would hang separately. "What we're talking about here in the next two days is a declaration of interdependence. If you don't hang together, you will decline separately," Millett said.

---


September 2009
U.S. needs to return to head of the class in education, Bill Millett argues
Most people gaze upon a newborn and see a precious, pink-cheeked wonder of life.
Bill Millett sees a critical constituent of the nation's future work force who needs to get with the program.
Millett, a Charlotte, N.C.-based early childhood education advocate, said education and nurturing must start from day one if Michigan and the rest of the country are to improve their competitive standing in the global economy.
"Education starts at birth," said Millett, who recently testified before the Michigan Senate Education Committee. "What happens in the first five years of a child's life is critical."
The United States used to be at the head of the class in virtually every category of educational attainment. But Millett, president of the consulting firm Scope View Strategic Advantage, said the country is slipping in most measures of educational achievement, compared with global competitors.
And that means we're in danger of permanently falling behind Japan, China, India and other countries economically, Millett said. Many children in China, for example, begin full-day kindergarten at age 3.
Early childhood education in the United States is "under-recognized, underappreciated and underfunded," Millett said in a recent interview. But does it really make much of a difference to emphasize education and development in the preschool years? Numerous studies, including a 2007 report by the Federal Reserve Bank of Minneapolis, say yes.
Children who develop strong language, motor and social skills before age 5 are less likely to drop out of school, go on welfare and commit crimes, according to the study. There also is an economic payoff of as much as $17 for every $1 invested in early childhood education programs, the study found.
During Millett's recent visit to Michigan, he praised the state's Project Great Start, created by Gov. Jennifer Granholm in 2005. Great Start is a public-private collaborative that provides statewide early childhood development services through a network of local agencies. But Michigan, like many other states, is looking to cut millions of dollars of support from early childhood education because of the recession. Michigan spends roughly $100 million on such programs.
Matt Gillard, a former state representative who consults on early childhood issues, says it is difficult for his former colleagues in the Legislature to avoid cutting programs that don't provide an immediate payoff. "You're investing in the future, and that's a difficult thing to do with all of today's problems," said Gillard, an Alpena Democrat.
Millett said business leaders need to be the most vocal advocates for early childhood programs. One group strongly backing early childhood education is the United States Chamber of Commerce. A handful of businesses, including Dow Chemical Co., Ford Motor Co. and Consumers Energy, have been involved with Project Great Start.
"The states that are successful have the business community involved," he said.

---

Little Rock, Arkansas
September 29, 2009

Governor, Experts link economy, early-education funds. Spending now to aid state later, Beebe says
Arkansas needs to continue to grow its publicly funded pre-kindergarten programs, Gov. Mike Beebe said Monday.
The governor spoke at an early childhood education conference in Little Rock that emphasized the economic benefits of spending on pre-kindergarten programs. Beebe said getting more children enrolled in pre-kindergarten is key to the state's future from an economic development standpoint.
More pre-kindergarten programs would mean fewer dropouts, less college remediation, and ultimately, a more skilled work force, Beebe said. This, in turn, would make it easier to build industry in Arkansas and add jobs, he said.
"Education and economic development] are joined at the hip. They are two sides of the same coin," Beebe said. "It's my job to plead and beg the General Assembly to fund, and to enhance where possible, this whole initiative." Arkansas spends $113 million annually to provide pre-kindergarten for about 25,000 3- and 4-year-olds in the state, said Tonya Russell, director of the Arkansas Department of Human Services Division of Child Care and Early Childhood Education.
Another 10,000 children get access to pre-kindergarten through the federal Head Start program. The majority of all these students come from low-income families. However, there are 26,000 more Arkansas children not enrolled in pre-kindergarten, Russell said. To extend access to publicly funded pre-kindergarten to all children in Arkansas would cost an extra $118 million annually, she said.
Educators must emphasize the economic advantages of spending on pre-kindergarten, said Bill Millett, an economic and planning consultant from North Carolina who spoke at the conference. Too many educators instead bombard the public with pictures of children playing with blocks when asking for more pre-kindergarten funding, he said.
"If you are trying to sell something on a warm and fuzzy basis today, that's a losing proposition," Millett said. "We need to talk about pre-K in terms of work-force development and economic development and community development and America's position in the world going forward."
Tom Kimbrell, sworn in as the state's newest education commissioner Monday, said Arkansas is not in a position to pay for public pre-kindergarten for all children. Instead, local school districts need to look to diverting money from other programs to offer pre-kindergarten to more Arkansans, he said. For example, some federal dollars that schools spend on teacher bonuses and special tutors could be diverted to pre-kindergarten.
If pre-kindergarten isn't expanded in Arkansas and across the nation, U.S. children will continue to fall behind their peers abroad, Millett said. And when it comes time to compete for jobs in the global economy, they'll be at a disadvantage, he said.
"While it's one of the best investments we can make, America has never ponied up," Millett said. "We are losing the knowledge race."

---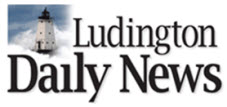 Ludington, Michigan
September 22, 2009

Early Childhood Education Is Econ Development
In an increasingly competitive world, U.S. must invest in children, speaker argues
Even as the fate of early childhood education funding in Michigan for 2010 hangs in the balance in the state Capitol in Lansing, Bill Millett, president of Scope View Strategic Advantage told the Economic Club of West Michigan that the case for early childhood education has too often been sold in the wrong way
It's not about painting a fuzzy, warm picture of doing what is right for children, though that's fine. Rather, Millett said, the case for investing in early childhood education is a financial one, an economic development one that shows a return on investment of between $7 and $17 later in life for every $1 spent early in life. It's a rate that, he said, is better than the long-term return on stocks.
Ultimately, the North Carolina resident said in an increasingly competitive world that has seen the U.S. knocked out of the perch it once held as the best-educated nation in the world, investing in early childhood education is an economic development investment for the future of the United States.
And the nation risks losing out in the future world of knowledge-based industries and talents if it doesn't invest in early childhood education, he argued.
Millett's company helps businesses and industries select sites to locate in. Early educational opportunities, he said, are increasingly features those companies look for in selecting a site to locate a plant or business. He's not an educator, though he was on a mission to educate the audience Monday night at Lincoln Hills Golf Club that included early education classes from West Shore Community College about the economic role he said is far more compelling a selling point for investing in early childhood education.
Early education is generally viewed as taking place during the years from birth to entering school. Millet and Stephanie Wagner, director of the Mason, Lake and Oceana county Great Start Collaborative who introduced him, both told how a person's brain is 85 percent developed by the age of five.
Millett said the brain retains elasticity throughout life, but the greatest development occurs in those first years. He cited a successful Apollo rocket launch that he said was dependent on 6 million parts working together at far better than 99.9 percent accuracy — that level of success would result in 6,000 part failures during the launch and likely catastrophe. He said early education is part of an education continuum like a launch is part of a successful space mission. Early education is the launch. The success of the rest of a person's education is directly related to the success of the launch.
A four-year study of two sets of students from Perry Elementary School in Ypsilanti bears out the return on investment in early childhood education, he said. While one set of Perry children received typical and fine experiences before entering school, the group from Perry that received early education during those years outperformed the other group later in life. More of that group graduated from high school and college, they earned more money, and, ultimately became taxpayers contributing money to society at better rates than the group that didn't receive the same level of early education, he said. And they were less likely to land in trouble with the law.
Millett cited a slew of business, chamber of commerce, and economic groups reports that call for this investment in early childhood education as a means to create the needed workforce of the future.
The United States, he said, for much of the 20th Century was the best educated nation in the world and that helped lead to the nation's economic sense.
"We're dumber today in a relative sense," he said. "It's not that we've gotten dumber, it's that the rest of the world has gotten smarter."
Part of that can be laid to complacency on the part of the U.S., part can be laid to investments in early education for at least selected "cream-of-the-crop" students by competing countries seeking to develop talent and knowledge needed for the new jobs.
The United States, being a democracy, tries to serve all children, not just the perceived cream of the crop, but he said that's OK because in terms of population numbers the U.S. can't afford to lose any children considering the size of the population of world competitors China and India.
The challenge ahead, he told the students in the audience, will be far greater for them than it was for the older adults in the room.
He compared the educational needs of youth today to the memory of computers. Once the Commodore 64 was state of the art with 64k of memory. Today's computers feature — and demand — far more memory than that.
Millett said the U.S. has fallen to eighth in the world in the percentage of students who graduate from college; 11th in the percentage of high school graduates; 21st in science proficiency; and 25th in math proficiency — "right up there with Portugal and Lithuania," he deadpanned, saying that's not the company he'd like to see the U.S. keep in terms of educational attainment.
Changing metaphors, he likened U.S. students to baseball batters with the bat on their shoulders being called out on strikes.
"Not recognizing the importance of early childhood education tears at the fabric of our society," Millet concluded.
Meanwhile in Lansing, today lawmakers could begin to decide the fate of funding of the programs for 2010.

---

St. Joseph, Missouri
March 28, 2009
Knowledge infrastructure-- Where the action is
Chamber speaker links early childhood education
with economic development

For many in the audience, Bill Millett offered a moment of nostalgia. The keynote speaker at the Spring Chairman's Breakfast on Friday spoke of a time when the United States led the way, well ... in pretty much everything.
Yet, in 1957, the Russians launched Sputnik, which prompted the American government to launch a plan to stimulate education to be the best, he said.
Mr. Millett spoke on the link between early childhood education and economic development at the breakfast sponsored by the St. Joseph Area Chamber of Commerce.
"Knowledge infrastructure is where the action is," he said.
Mr. Millett stressed that intellectual capital is a big asset to communities and that the future of many businesses, especially in a city like St. Joseph, is small business. Companies looking to locate in the area are looking at the work force now and the work force in 20 years. Local high school graduation rates are being considered, he said.
"The success at each stage of learning depends on the quality of the stage before," he said. "School readiness equals work readiness. You don't want our work force to stop learning after they go to work."
Mr. Millett believes a community can measure economic development by early education, and it's not out of the question to expect a 17-to-1 return on investment in the early education system.
"We've paid the price for underestimating early education," he said. "If you get the start right, everything turns out better."
The 2009 winners of the Family Friendly Employer Award were announced at the event, too. The United Way's Success By 6 program, which developed the award program, co-sponsored the breakfast. There were 13 entries this year.
Commerce Bank received the Class II award for employers with 25 to 99 employees. Hy-Vee won the Class III award for employers with 100 to 249 employees and Missouri Western State University took the award for Class IV, having 250 or more employees.

---

Grand Rapids, Michigan
March 11, 2009
An Unexpected Necessity in Global Competition
America must invest in its littlest citizens if it hopes to remain globally competitive in the future, a North Carolina consultant plans to tell the Grand Rapids business community on Wednesday.
"Where you've seen major progress on funding in early education in places like Oklahoma and North Carolina and some other examples is because the business community has become very actively engaged, not just writing letters, but calling on legislators and explaining the importance of the issue from an economic standpoint," said Bill Millett, president of Scope View Strategic Advantage in Charlotte, N.C.

Millett is scheduled to make two stops in West Michigan during a two-week speaking tour of the state, sponsored by Great Start Collaborative, a state organization focusing on health and education in early childhood. His first appearance is set for 7:30 a.m. Wednesday at the Eberhard Center on Grand Valley State University's Pew Campus in Grand Rapids. He is also scheduled to speak at 7:30 a.m. Friday at the GVSU Alumni House on the Allendale campus.
Millett said a focus on early childhood education, quality child care and health are crucial if youngsters are to arrive at the school steps ready and able to learn.
"It is also about the collective future of Michigan as a competitive economic vitality, as a viable economic commodity," he said. "And if those investments are not made in 2009, then in 2032, things will be even weaker."
A former economic development director for the Charlotte Chamber of Commerce, Millett has held a slew of leadership positions in the field: board of the National Association of Development Organizations; past president of the Carolina Economic Development Association; charter president, Southeast Community Development Association; past member, Governor's Committee on Local Government; and chair, Regional Council Executive Directors Association.
He said he plans to present the business case in favor of investment in early childhood initiatives. Among the sources he cites are:
The Business Roundtable, composed of the CEOs of 160 leading U.S. companies: "In today's world, where education and skill levels determine future earnings, the economic and social costs to individuals, communities and the nation of not taking action on early childhood education are far too great to ignore."
Committee for Economic Development: "Early childhood education, in contrast, appears to offer greater potential returns and substantially less risk. CED encourages local development policy-makers to view early childhood education as a development tool and appreciate its lasting benefits. It is time that early education is implemented with the same energy, urgency and funding that is currently being applied to other less-promising projects."
Public polling firm Zogby International: "Ultimately, unease about the American work force and the U.S.'s ability to compete in the global economy without a solid investment in education beginning in early childhood seems a potent rationale for business leaders to support investing in universal pre-school for all who want it."
Millett is involved in North Carolina's Smart Start program, which launched that state's programs to raise the bar on early childhood in 1993 and has become a national model.
"It is not an easy sell," Millett said, noting that much of the investment today won't even begin to pay off for years. Yet, test scores of American students are sinking in math and science, and the country no longer leads the world in educational attainment.
According to a 2006 National Science Foundation analysis of doctorate degrees in the 20th century, foreign nationals earned 39 percent of science and engineering doctorates awarded in the U.S. from 1995 to 1999, compared to 16 percent from 1960 to 1964.
By the early 1990s, almost one in three of all U.S. doctorate degrees were awarded to foreign citizens, four out of five of them male and in the country on temporary visas. From 1995 to 1999, Asian nationals earned 44 percent of engineering doctorates and 22 percent of all science doctorates, the study stated, mostly from China, India, Korea and Taiwan.
"The Great Recession — it will eventually go away. But with Michigan and with North Carolina and other places, we have been in a diminished competitive status versus the rest of the world for a while now," Millett said. "I think we have undervalued education. We most definitely have undervalued it compared to other countries that have eaten our market share in a number of marketplaces."
Support for early childhood programs is tougher to come by in Michigan, he added, thanks to the Legislature's term-limits that impacts the political will to make decisions with a long-term impact.
"Where the early education needle has really moved is when the business community has gotten really involved, when you've got senior vice presidents in key corporations saying, 'This is an important issue — important to the future of my company, important to the future of Kent County,'" Millett said.

---

Goldsboro, N.C.
February 27, 2009
United Way Honors Volunteers; Praised for Accountability
David Perry, who served as campaign chairman for the United Way of Wayne County in 2008, was named the recipient of the Emil Rosenthal Award at the organization's annual meeting Thursday at the Goldsboro Country Club.
Perry was recognized for having spearheaded United Way's annual fundraising campaign, which raised $1,359,540, or 96 percent of its goal, during a year marked by economic hardships for many donors. The money will help improve the lives of more than 27,000 people in the county, United Way officials said. Perry credited the many volunteers who worked in the campaign for its success and thanked every business and individual who contributed. "Without them, this wouldn't be possible," he said. "If leadership embraces the campaign, we get good support," said United Way outgoing president Jane Rustin, citing the leaders of those organizations.
She added that the fact that United Way managed to reach 96% of its goal during rough economic times showed how much Wayne Countians care about their home. "I really think that speaks volumes for our community," she said. Ms. Rustin turned the reins of president over to new president Ric Moffatt, and Brian Taylor was named the chairman of the 2009 campaign.
Guest speaker at the event was Bill Millett, president of Scope View Strategic Advantage, a Charlotte-based consulting firm. Millett guided the United Way's Board and Strategic Planning Committee through a recently completed initiative that set the agency's needs assessment and financial allocation directions over the next three years. His presentation was entitled "Relevance and Accountability in Rapidly Changing Times."
He praised the United Way for its strong commitment to its fiduciary role for the monies entrusted to it, and said the organization has consistently shown that it is one of the most responsible nonprofits in the state.
He said United Way, like nonprofits and corporations across the nation must change to maintain their relevance, especially in the many different environments within which they function, and particularly in the economy of 2009. Wayne's leaders, he noted, have shown a recognition of that fact, which has kept the local organization ahead of the game.
"This United Way has anticipated and adjusted itself accordingly," Millett said. "You are not tied to what's traditional." That includes adding such aspects to its operation as accountability and goal setting that allow the United Way to address traditional problems with charitable organization operations and fundraising.
"I think you have to be from outside Wayne County to realize how different this United Way is," Millett said. He contrasted the one in his company's home location of Charlotte, which he labeled the ground zero of United Way Board incompetence and insensitivity.
He added that the United Way of Wayne County is accountable and transparent in its money raising and funding efforts, and that money given during the campaign is not considered donations but investments in the community, with an explicit responsibility for the United Way to define what the specific returns on those investments are.

---


September 18, 2008
Hickory, N.C.
Expert says early education 'imperative'
More emphasis should be placed on cognitive
development in child's first 4 years
HICKORY - While high school is important, education should begin when children are much younger than that. Because what they learn will ultimately influence the economy of the community they live in.

Bill Millett, founder of Scope View Strategic Planning, spoke at the Champions of Education breakfast Wednesday morning, saying schools and communities need to stop promoting the "warm fuzzy" image and focus more on early education.
"USA is no longer No. 1 like we were in the 1950s," Millett said. "We are under intellectual and educational assault, and we are getting our butts kicked. Early education is imperative. It's under-appreciated and under-funded. Today's kids' competition for jobs is growing up on at least five other continents."
He said schools need to focus on not teaching students memorization, per se, but cognitive skills they can use to advance their learning. That can begin with children's early education — before they're in kindergarten — so later years will be successful.
Millett compared the skills children learn in their early years to the launching of a shuttle: If they don't begin learning when they're young — before they're 4, even — then their kindergarten through high school years won't be successful. If those aren't, post-secondary school won't and then the work force that society depends on won't be successful, either.
"All aspects of adult human capital from work force skills begin with early education," he said. "In the first four years of a child's life, a child's brain learns a lot with cognitive development. We should put more emphasis there. It's something our competitors in other parts of the world are doing, and we should also." Millett said programs such as Smart Start and More At Four give children the early childhood assistance they need so they excel at school during their formative years. This will, in turn, benefit society.
"In 2006, the majority of people getting doctoral degrees in the U.S. — 60 percent — were foreign nationals. A lot of them are getting their degrees in the U.S. and are going home because the opportunities are better," Millett said. "Americans are getting fat, lazy and complacent." He urged community leaders at the meeting to get involved with children's education and encouraged them to get active in getting students excited about going to school and getting additional degrees. Millett said the U.S. can catch back up to other countries, despite having a larger pool of people to select their workers from, assuming the U.S. doesn't get complacent with our standing in the world.
"It's a knowledge competition," Millett said. "China and India have more honor students than we have students." He encouraged the business community to invest in early education, because it's an investment in the work force development of the future. "Sometimes, it's measured long after a term of office expires, but you will see the results," Millett said.

---


Norfolk, Virginia
May 22, 2008
"Enough Already With the Warm and Fuzzies"
SUFFOLK
The statistics are startling. In the 2006/2007 school year, across Virginia, about $100 million was spent to retain children who failed to pass kindergarten, first, second and third grade.
That's $7,654 per year, per child, according to Paul Hirschbiel, chairman of the board of Smart Beginnings South Hampton Roads.
Smart Beginnings is a state-wide, nonprofit grassroots effort to ensure all families in South Hampton Roads have access to quality early care and education for children up to the age of 5 - when, hopefully, they will be fully prepared to succeed in kindergarten and the grades following.
The organization maintains children with sound early childhood education have fewer special education needs, are more likely to graduate from high school, earn more money, pay more taxes and need less help from government income-assistance programs.
At an informational luncheon meeting on May 14 at the Hilton Garden Inn, Hirschbiel and other Smart Beginnings representatives presented their case to local business leaders, seeking their support for improved early childhood education.
They could have mentioned other, equally unsettling numbers. Seventy percent of the centers offering full-time care for pre-schoolers have waiting lists and only 28 percent of center-based programs offer care for children younger than 2. At a cost of $6,000 to 8,000 per child annually, high quality day care is often not affordable for working families.
"Enough already with the warm and fuzzies," flashed across the big screen above an image of cute little children sitting in a pre- school class. Hirschbiel and guest speaker, consultant Bill Millett, said business people respond better to the hard facts than to a heart- tugging sentimental approach when asked for sponsorship. Millett is the president and CEO of Scope View Strategic Advantage, the consulting group that works with Smart Start, a North Carolina program similar to Smart Beginnings.
Millett and Hirschbiel were in town to encourage local businessmen and education leaders to support quality early childhood education as the key to a well-educated future work force that will be able to compete globally.
Tom Powell of The Addison Group, a Suffolk marketing firm, is the a father of four children. He was surprised at what he heard. "All of our eyes were opened as to how far back we have to go educating the children," he said. "If we're going to compete in the global market in the future we need to develop these kids younger so that when they get to seventh and eighth grade they're ready and interested in learning." Kermit Hobbs, executive vice president of Amadas Industries, a Suffolk-based international manufacturer, said the firm has seen a decline in U.S. competitiveness in the world market and a growing dependence on imported components for the equipment manufactured in the U.S.
Amadas, with a commitment to engineering and technology, already works to encourage local middle-school-age students who are interested in science and technology. "What we heard is that we need to extend that effort back to the early childhood level," he said.

---


Holland, Michigan
May 9, 2008
Outside Speakers Provoke Strategic Thinking
In preparing for the upcoming Summit on Racism, I read a thought-provoking book, "Debunking the Middle Class Myth" by Eileen Kugler. The author challenges the reader's thinking and explores numerous opportunities for a diverse community to engage families, educators and community leaders to search for ways to enrich lives and ultimately strengthen a community's future through diversity.

According to another author, Sonia Nieto, "We do our children a disservice when we prepare them to live in a society that no longer exists. Given the tremendous diversity of our society, it makes eminent good sense to educate all of our children to be comfortable with differences."

Regardless of our role in the community, we all have the potential to influence our youth as we prepare them for a globalized society and diverse world. It behooves every community leader and educator to engage in the community conversation about diversity.

The Holland area has been fortunate to have several authors and speakers visit us in the past year to engage us in conversations about the needs of the future and share their perspectives for developing and remaining an economically vibrant community.

In the fall, Bill Millett, President of North Carolina-based Scope View Strategic Advantage, stressed the economic imperative of providing quality early childhood programs for all children. He provided evidence indicating a significant return on investment if we stand ready to prepare all children for their life long educational journey. A well-developed pre-K program will ensure children have the necessary skills to meet with success early on, which will serve them well as they grow and develop into productive citizens.

Citing one of his numerous documented sources, he stated, "In this new global economy, businesses are requiring workers and educational systems to develop students who have the creative capacity to dream and design as well as build. They must be able to interact with people who have different values and beliefs. While they need the ability to question and think critically, they must also be able to communicate effectively and work cooperatively with co-workers across the globe."

Daniel Pink, author of "A Whole New Mind," piqued our interest and nudged our thoughts about who stands ready to "rule the world." He stated, "The future belongs to a different kind of person with a different kind of mind: designers, inventors, and teachers, storytellers — creative and emphatic 'right brained' thinker, big picture thinkers — whose abilities mark the fault line between who gets ahead and who doesn't."

Pink and Millett shared their insights about the need to view our diverse world differently, support creativity and challenge our own thinking as we wrestle with the future. Both speakers, and Eileen Kugler, encourage their audiences to create and provide work environments and classrooms that are rich in culture and open to new ideas, where students and employees are engaged and continuous learning is a mainstay. Diversity and acceptance of the thinking of others contribute to the robust exchange of ideas, which is essential to quality solutions and new learning.

Each day our thinking is artfully prodded. Many people in our community have redesigned themselves to maintain marketability. We are seeking solutions, trying to develop effective and efficient modes of transportation, economical fuel and power options, new medical opportunities and environmentally friendly communities. The solutions to these issues will emerge through inclusivity and the powerful thinking of many. There is a sense of urgency to ensure our next generation is prepared to compete in a diverse world that requires an ever changing skill set to meet with success.

---

Jackson, Michigan
February 15, 2008
Investing Now in Community's Economic Future
If Jackson doesn't want to be a fading blue-collar community, it has to invest in early childhood education.
That was the message from Bill Millett, president of Scope View Strategic Advantage, during Jackson Great Start Collaborative's retreat Thursday at Ella Sharp Museum. Millett, of North Carolina, said his native state has struggled with the fallout of a global economy and its impact on manufacturers in the United States. He said North Carolina leaders are now stressing early childhood education.
The payoff will take time -- enough for today's children to graduate from high school or college -- but it will be significant, he said. We'll have a work force that is not only more productive, but that also has a more creative, competitive edge that comes with knowledge, Millett said. "Those children are our work force for 2030,'' Millett said.
Millett said other countries push education much harder than the U.S. "Our kids, K-12, are getting their butts kicked in academics from kids around the world,'' he said. Weaknesses at the early childhood level affect children as they enter K-12, because teachers have to dumb-down material to accommodate those falling behind, Millett said.
The Great Start program is a statewide initiative that was created to ensure a coordinated system of community resources to help all Michigan families with children 5 and younger. Mary Cunningham-Deluca, Great Start chairwoman for Jackson, said Jackson residents won't easily change philosophies about education. "Jackson is not a community that values education,'' she said. "When it comes down to making a decision, if it costs money, it's not going to happen.''
In an attempt to move Jackson forward, those attending the retreat, which included parents, educators, county officials and those within the business community, discussed the community's lack of awareness about the issue and how to change that. "We've got to increase the investment from our community within the community,'' said Sheri Butters, Great Start coordinator for Jackson.
Millett said Jackson is on the right path with the county's strategic plan. He praised the Jackson Legacy, which promotes scholarships to Baker College, Jackson Community College or Spring Arbor University.

---

Business Leaders Rally Around Cause

Norfolk, VA
February 11, 2008
In February 2007 Smart Beginnings South Hampton Roads, an organization focused on improving early childhood education in the region, hosted an event at the Virginia Aquarium & Marine Science Center in Virginia Beach. The event was the organization's coming out party to the business community, a chance to show company executives and business owners how they could ensure the strength of the future workforce.
The group has since been working on various efforts, including forming an Early Childhood Business Advisory Council. Last month, less than a year later, Smart Beginnings hosted its inaugural Early Childhood Business Advisory Council luncheon and invited the attendees to become the council's founding members.
"It was terrific," said Lisa Howard, director of Smart Beginnings South Hampton Roads. "We invited 50 high-level business community members and had about 26 in attendance. They were given the 30,000-foot view of the importance of early childhood education."
The luncheon started off with a message from the business council's co-chairs, Gary McCollum, vice president and regional manager of Cox Communication, and Ron Racinowski, vice president and general manager of USAA Mid-Atlantic Region. Their topic was the importance of developing the future workforce to ensure the success of Hampton Roads' economy.
McCollum said he could think of more than enough reasons to engage the business community in early childhood education. "I have 2,000 reasons why," he said, referring to the 2,000 Cox Communications employees in Hampton Roads. "Fifteen or 20 years ago we should have put in place programs to focus on early childhood. Because we didn't, businesses that rely on knowledge workers don't have the talent and struggle to get it. Cox and all businesses – we're feeling the pinch and we need to do more."
The second part of the luncheon featured Bill Millett of Scope View Strategic Advantage, a Charlotte, NC firm working with Smart Beginnings. Millett discussed the effect of early education on the global economy. He made the point that America has fallen behind other industrialized nations, saying the trend could be detrimental to the local economy.
Howard said she was unsure how the business community members invited to the luncheon would react. "We got down to why it's important to the business community and I was holding my breath a little bit," she said. "But it was amazing how many people came up and spoke to Bill afterward and spent time discussing how they could get involved."
Millett said he was impressed with how engaged the business community was with the importance of education for children under 5. "The people in Hampton Roads get that it's important for their own companies," he said.
It's going to take more than just early childhood educators lobbying legislators to get increased funding for childcare programs, Millett said, adding that business leaders can use their clout to get the message across. "States that have increased their funding for these programs have also engaged the business community," he said.
McCollum of Cox Communications echoed those reasons for being involved. "We can't just leave it up to the early childhood educators," McCollum said. "I think most businesspeople know it's important at the very least to have good people." He pointed to the short-term benefits that could be realized as well by improvements and increased funding for early childhood programs, including availability of quality childcare for his employees.
Opportunities for businesspeople on the council will include using their influence and some hands-on, volunteer work. Howard said, as an example, a company could partner with a childcare center to offer subsidies. Smart Beginnings is also working to develop a business tool kit with recommendations on how to make a workplace "family-friendly."
McCollum said his role in the business community will be to encourage others to become advocates for early childhood education. At Cox, he is working with the human resources team for ways to improve its benefits package and assist employees.

---


Anchorage Alaska
December 23, 2007
An Unexpected Resource in Economic Development
Guest Editorial
By Bill Millett, President, Scope View Strategic Advantage
Charlotte, North Carolina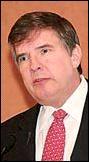 In the increasingly intense competition for new jobs and capital investment across the country, one critical and surprising factor is often overlooked by local officials. That issue is quality early education.

Alaska is competing not just against other states or other parts of North America, but with countries around the world, who are placing more importance on the vital link between early education programs and an educated workforce than does the United States.
Alaska's Best Beginnings initiative, an outgrowth of the state's "Ready to Read, Ready to Learn Task Force," is based in part on North Carolina program-- Smart Start, a national model for early education. Like the North Carolina program, Best Beginnings is a statewide public-private partnership. Best Beginnings calls itself "Alaska's Early Childhood Investment," and the full scope of the potential return on that investment is seldom recognized. While a primary emphasis in programs like Smart Start and Best Beginnings is quite properly on the state's youngest citizens, there is far more at stake than that.

Those kids today are, for better or worse, a substantial part of our workforce 20 years out. They will grow into a world that is more economically complex, challenging and competitive than anything we've ever known. In that respect, Best Beginnings is the first stage of an educational trajectory that in a very real way will determine not only children's futures, but the long-range economic vitality of communities and that of Alaska.

The United States now lags far behind other nations in high school and college graduates. The economic competition is increasingly a knowledge competition, and intellectual capital has become a region's critical business asset, even in Alaska with its rich natural resources.

There are a number of national business organizations that have made the case for the role of quality early education as a competitive American necessity in a global economy. One of those, the Business Roundtable, is comprised of leading U.S. companies making up nearly a third of the total value of the U.S. stock markets and represents more than 40 percent of all corporate income taxes paid. It is committed to advocating public policies that ensure vigorous economic growth, a dynamic global economy, and the well-trained and productive U.S. workforce essential for future competitiveness.

In 2003, the roundtable issued a major position paper, "Early Childhood Education: A Call to Action from the Business Community," emphatically endorsing state and federal programs that provide quality early education. In so doing, it embraced both the general principles and key operational elements of Smart Start. Significantly, the Business Roundtable positioned the issue as one of major importance to the long-term vitality and security of local and state economies and that of the nation as a whole. Other business-related organizations with a similar perspective include the Committee for Economic Development, the Federal Reserve Bank, Business Week magazine and the Wall Street Journal.

Abbe Hensley, executive director of Best Beginnings, which organized a recent Governor's summit, emphasized the importance of understanding the economic impact of quality early education, saying the issue is certainly about young children. But if we are to effectively address a situation where almost half of Alaska's children start school unprepared to read or learn, we must fully appreciate the economic consequences of that fact not only to them, but to us.

---

November 4, 2007
Real Economic Issues: Will They Be Addressed?
By David Myers
Director, Ponca City Development Authority
One year from now, one year from Nov. 4, 2007 to be precise, we're going to elect a new president, recounts notwithstanding. Over the next year, we'll hear from the media and the candidates about "the issues" and their respective stances.

But will they be the real issues?

As the campaigns continue to unfold, we'll hear about a variety of supposedly important topics. Some may influence our lives or the future more than others. The challenge, as always, is that the issues discussed may not always be the issues that will really matter the most. More to the point, when does talk become action?

Last month, PCDA, along with the Chamber, the United Way, Success by Six and the Delaware Tribe sponsored nationally known speaker Bill Millett at the Ponca City Rotary Club. Millett is a North Carolina consultant who speaks throughout the nation on the importance of early childhood education and its impact upon economic development.

Millett made a strong case about where the global and national economy are headed, as well as an impressive case on the Ponca City economy, and how important early childhood education will be. It was, as stated by one Rotarian, a "call to arms."

This is a critical issue that is only getting lukewarm attention. With the expected work force shortage in the next few years, the United States simply cannot afford to have citizens that are not productive. As cold hearted as this sounds, plus or minus 30 percent of our population is destined for economic irrelevance. Taxpayers should be concerned because this 30% becomes, as Millett put it, tax consumers rather than tax payers. As more people retire than enter the workforce, this will only put more pressure on a tax system that will already be struggling with the Medicare and Social Security issues of the aging.

From an economic perspective, it just doesn't make sense to have 30 percent of our workforce sitting idle while employers are scrambling for employees.

So what to do? Will this be an issue for Campaign "08?" Can we afford to wait any longer?

The answer to the latter question is a resounding "no." In Ponca City, we have taken this bull by the horns and started to act. PCDA and Pioneer Tech, (PTC) along with the local Oklahoma Employment Securities Commission have launched some bold new programs to actually find people who can fill available jobs. Rather than talk about the problem, solutions have not only been suggested, we have troops on the ground.

The hard part is that we can't guarantee that what we are doing will work because no one else has tried most of this. There is a lot of information on the problem and almost none on what can be done. We just can't wait any longer.

The action steps under way include the Pioneer Tech Advanced Welding program and Skills on Wheels, both supported by PCDA. There is also the PCDA drop-out outreach program and our statewide high school outreach program. In addition, there are other programs involving youth that are too numerous to go into here that will have an impact in 90 days and 90 months.

These programs have garnered Ponca City national attention as areas hungry for real solutions, not just talk, look to see how we're doing. For lack of other examples, Ponca City is pioneering a number of initiatives as we continue to look for other ways to get ready for tomorrow.

This is made possible because of leadership. Leadership from the PCDA Board of Trustees, from the Administration and board at Pioneer Technology Center and, yes, the elected officials at the local and state level in Ponca City have truly made these initiatives possible. Their interest in the real issues makes a difference.

---

Lexington, NC
November 10, 2007
Businesses, Education Should Partner
In the competition to get new industry to Davidson County, the competition is not just other counties in North Carolina or other locations in the United States, a speaker told business, education and community leaders gathered Friday at the 2007 Business Leaders Forum at Davidson County Community College.

Davidson County is competing with countries around the world, who are placing more importance on early education programs and an educated workforce than the United States, said Bill Millett, the president of Charlotte-based Scope Strategic Advantage, a consulting firm that provides strategic planning and consultation to businesses.

In his years of work with companies, Millett has learned that high-paying, high-technology companies are basing location decisions heavily on one thing - the education and skill level of a community's workforce. With this knowledge, Millett became involved with many early education initiatives and speaks often to business leaders about how they can and should become involved with supporting quality early education programs.

Smart Start of Davidson County sponsored the event titled "Quality Early Education: A Competitive Necessity in a Global Economy." About 500 business and community leaders were invited, and approximately 150 attended the forum.

"Fifty years ago, we Americans were fat and happy," Millett said at the beginning of his PowerPoint presentation. He said research shows by the time children reach age 3, their brains are twice as active as those of adults and that 90 percent of brain growth occurs before kindergarten. Therefore, Millett stressed, quality early education is essential to capitalizing on this brain growth time in young children.

The purpose of bringing so many leaders to the forum, said Linda Leonard, executive director of Smart Start, was to get everyone thinking about what it will take to have the county's children ready to compete in a global economy and what it is going to take to make Davidson County a competitor as well.

Millett told the attendees that quality early education will expand the available workforce and, in turn, companies wanting to locate here.

"They (children) will grow up in a world considerably different then anything we grew up in," he said. "Their competition is not just other states but other continents."

In his presentation, he shared many studies showing the importance of early childhood education conducted not just by educators but by business leaders. One study from Harvard called The Science of Early Childhood Development concluded, "All aspects of adult human capital, from workforce skills to lawful behavior build on capacities developed during childhood starting at birth."

He also shared current education statistics for Davidson County and North Carolina. In the county, 72 percent of the population has a high school diploma and 12.8 percent have a college degree while 78 percent of the state's population has a high school diploma and 22.5 percent are college graduates.

"Your college graduation stats are half that of the state," Millett noted.

Later he showed how other countries are outpacing the U.S. with knowledge just by the sheer number of people who live there. So in the U.S and in Davidson County, there has to be an effort to help all U.S. children begin early to learn and love learning, he said.

"Let's put it this way, if you take the top 25 percent of the intelligent children in China and India, that's more kids than we (U.S.) have totally," he said.

Later, Donna Black, executive director of the Communities in Schools mentoring program and one of the many other speakers during the program, asked the audience to respond to three different questions. One question was, "Do you agree with the need to focus on education for all children starting at birth?"

Newell Clark, a Davidson County native who recently moved back here after living in California, responded yes and then gave examples of how far behind the county is in education compared to other parts of the country and world.

"We have parts of this county that do not even have high-speed Internet," he said. "How can we expect our children to compete when they can't even log onto the Internet?"

He also shared an article he read in the Wall Street Journal in October 2006. The article first listed the top 10 counties in the United States with a college-educated population. On the list was Wake County, N.C. As he read on he saw another North Carolina county he recognized - Davidson County. However, it was listed in the bottom 10 counties in the U.S. with college-educated citizens.

"We are going to have to think differently," he said. "The only way we are going to make this better is if we work together."

---
Rochester, Minnesota
October 17, 2007
Answering Challenges to U.S. Economic
and Technology Leadership
Remember Sputnik?

The Soviet Union's beach ball-sized space probe, launched in 1957 as the world's first man-made satellite, set a fire under the U.S. educational system to improve math and science instruction. Fifty years later, the United States faces another "Sputnik" in the form of superior early-childhood programs in emerging nations such as China and India, a North Carolina-based consultant told a Rochester business group on Tuesday.

"It requires a response that is as dramatic," said Bill Millett, whose firm Scope View Strategic Advantage, works with the Rochester Area Foundation's First Steps early-childhood initiative. A good preschool education readies a student for kindergarten, and that's an advantage that's hard to overcome, even in 12 or more years of formal schooling, educators say. "I don't like to talk about 'them' versus 'us,' but that's exactly what is happening," Millett said. "'Them' is coming after 'us,' and 'them' is beating 'us' -- and, yes, I know that is grammatically incorrect."

Millett's speech was the centerpiece of a program announcing First Steps' newest program, the First Steps Business Alliance. The alliance seeks to make businesses aware of the ways they can help ready the next generation of U.S. workers.

Employers can adopt family-friendly policies, give time and encouragement to employees who parent young children, or even sponsor or host programs to help employee-parents learn ways to make sure their children grow up ready for kindergarten by age 5.

Half not ready

About half of Minnesota's children come to the first day of kindergarten without having developed the academic and emotional skills deemed necessary to succeed in school, recent studies have said. It puts school systems in the position of playing catch-up from the start.

Businesses have a stake in early-childhood education, officials said, because as the "baby boom" generation moves into retirement, fewer workers will be available to take up the slack. The First Steps Business Alliance strikes a tone that's familiar as a business concept to Nancy Domaille, head of Domaille Engineering, who co-chairs the program with Rochester accountant David Oeth.

"The more time we spend at the beginning, the more successful we are at the end," Domaille said. "The more successful they (students) are at kindergarten, the more successful they are going to be" in life.

The increasing emphasis on early-childhood education comes as the United States has slipped from number one in most educational rankings to barely in the top 10, Millett said. Regarding India and China, he said, "they've got more honor students than we've got students."

It's disappointing, said Mark Scally, CEO of OxygenPlus, a Twin Cities firm, that the country hasn't demanded radical improvements in the education system. "We are just not alarmed enough," he said.


---

Wilmington and Southeastern North Carolina
September 24, 2007
Pender County Schools setting 'real world' goals

Preparing students for the "real world" is a task Pender County school officials don't want to take lightly.

So for about 3 1/2 hours Monday, school board members and district staff developed some goals they hope will modernize classroom instruction and make graduates global competitors in the future job market.

"We're so textbook-driven … that we don't think outside the box," school board Chairman Tom Roper said during the planning session held at Trask High School.

He said while the school district excels in state and federal academic performance assessments, it's critical to make updating teaching methods and offering better technology high priorities.

"We've done well academically, but the world is going to pass us by. In a lot of ways it has," Roper said. "It's time to move the bar to get a second wind and run again."

Bill Millett, founder and president of Charlotte-based Scope View Strategic Advantage, facilitated the planning session and emphasized how U.S. students are trailing students in countries such as China and India in education, making them less competitive for jobs.
He argued that the real measure of education in Pender County is not how schools locally are doing compared to what they were doing 5 years ago, but rather what they are doing versus schools in other states, other countries, other continents. "That's the playing field on which your kids will be competing for jobs," Millet said. "It will be tougher than anything any of us have ever experienced."

Afterward, participants broke into two groups to develop a new vision and mission statement for the district that will emphasize new, forward-thinking priorities on education.

The district's proposed goals to bring about the change are to have 21st century teaching professionals; be forceful advocates for real-world teaching and learning; ensure students are safe, healthy and responsible; collaborate to guide innovation; practice effective and interactive communication; and deliver maximum return on taxpayer investments while holding itself highly accountable.

"As a governing body, we have to believe in this," said Kenneth Lanier, vice chairman of the Pender County school board. "If you don't believe in it, there's a weak link in the chain."

The district plans to build more partnerships with area businesses to eliminate the disconnect between what employers want and how the school system is preparing students. Central office staff will complete the goal-setting. Roper said the school board might vote on the final plan by early December.

Superintendent Allison Sholar said while there's always fear of change, the district's ability to develop a strategic plan for 21st century learning is progress in itself. "As a system, we can't wait for somebody else to figure it out," she said. "We've got to figure it out."

---

Holland Michigan
September 21, 2007
North Carolina Businessman Keynotes Conference
Power players, movers and shakers from throughout Ottawa County gathered in a packed room at the Haworth Inn & Conference Center Thursday morning as "Ready To Learn," a new early-childhood development initiative, was unveiled by the Community Foundation of the Holland/Zeeland Area and Great Start of Ottawa County.
Janet DeYoung, foundation executive director, described the venture as "a community initiative to assure that all children enter kindergarten with the knowledge, skills and experience base to succeed in the classroom. "Ready To Learn" is not a new program. It's a seamless network of services, inclusive of all sectors of the community."

DeYoung said the first step in the process, designing the support system, was launched Thursday, and that the design phase will be completed over the next six months. It's not yet clear whether money for the program will come primarily from the public or private sector, or how much it will cost.
"It will depend on the design of the system," DeYoung said. "Many parts of the early childhood system currently exist, but services are fragmented. Enhancements of existing services as well as new approaches will require a diverse funding base.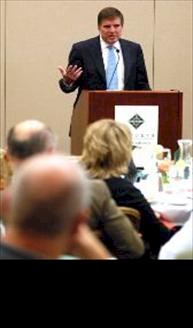 Bill Millett, president of Scope View Strategic Advantage of Charlotte, North Carolina and the keynote speaker at Thursday's conference, cited studies that convincingly support the connection between early-childhood preparation and economic vitality. He presented a series of intriguing slides that made the direct connection between the first five years of a child's life and the ability of that boy or girl to become an important part of Ottawa's workforce in twenty years. Most of the sources he used came from the corporate world, a perspective that Millett said early education leaders in his own state have failed to use appropriately.

"High-quality early-childhood education is the forerunner of high-quality economic development," he said. "North Carolina has had a lot of successes in the fourteen years of its Smart Start program, much to be proud about, much that you can learn from.

<<< Charlotte, NC businessman Bill Millett addresses the large crowd gathered at the Haworth Conference Center Thursday.
Here's one thing we haven't capitalized on that you can learn from as well-- Involve the corporate world in what you're doing and what you're advocating. They will have a credibility across Ottawa County and Michigan and in Lansing that no one else will. And with the compelling arguments that have been advanced by such national corporate groups as The Business Roundtable and The Committee for Economic Development, there is simply no good reason not to include the business perspective as primary part of your strategy."
"Early childhood educators are excited to see the attention and validation given to our work by the larger community," said Ellen Westveer, principal of Holland Public Schools' Lakeview Early Childhood Center and member of Ready To Learn's community partners work group.

"While we've had this mission for years, it's exciting to see others recognize the importance of what we do. But it's also a reminder of what a tremendous responsibility we have each day as we touch the lives of these children," she said.


---

Clayton, North Carolina
Lead Editorial July 5, 2007
A Wise Investment: Bolstering Local, National Economy
In the late 1990s, the Town of Clayton put together an economic incentive package to lure the Winn Dixie distribution center to town. The deal included property tax breaks, and the county pitched in with discounts on water and sewer service.

The News-Star hailed the arrangement as a tremendous success. We opined that the large-scale and state-of-the-art grocery store distribution center and cold-storage facility would bring hundreds of good-paying jobs to Clayton and ultimately bolster the property tax base for the town and county. The outcome, we all know, has not been too good. Winn Dixie, a Southern icon, is gone. The jobs left, the associated service businesses closed up shop, and for several years until Smithfield Foods took over a portion of it, the once proud and bustling Shotwell Road facility sat empty.

The investment by the town and Johnston County didn't pan out as hoped. Similarly, each year, billions of state and local tax dollars are committed to development projects for high-profile companies. These investments are all too common, too risky and seldom positive, said speaker Bill Millett at a recent Partnership for Children breakfast meeting.

A safer bet, Millett said, would be to put the money toward early childhood education. He cited an analysis from the Committee for Economic Development (CED) that showed how early childhood education programs should be regarded as critical to economic development.

The CED, a group of representatives from both the corporate and university sectors that addresses national priorities to promote sustained economic growth, released this statement: "Early childhood education, in contrast (to local economic development incentives), appears to offer greater potential returns and substantially less risk. It is time that early education is implemented with the same energy, urgency and funding that is currently being applied to other less-promising development projects."

The Federal Reserve Bank released a report that contained this statement: "Early childhood development programs are rarely portrayed as economic development initiatives, and we think that is a mistake. Such programs, if they appear at all, are at the bottom of the economic development lists for state and local governments. They should be at the top. … The return on investment from early childhood development is extraordinary, resulting in better working public schools, more educated workers and less crime."

When Gov. Jim Hunt introduced the Smart Start program in 1993, he lauded it as an economic development program from the outset. But somewhere through the years, his initial message has been lost. Today, the program primarily focuses on the healthy child and prepared-for-school side of the equation. And since the inception of the program, the United States has lost its competitive edge in the global marketplace.

We once farmed out manufacturing and some services to China and India because of cheaper labor. Now outsourcing occurs because these countries can offer higher skilled labor and superior end products.

"The United States now lags far behind other nations in high school and college graduates," Millet said. "The economic competition is increasingly a knowledge competition, and intellectual capital has become a region's critical business asset."

A few years after Winn Dixie closed its doors, the Johnston County Economic Development office introduced a plan to develop a no-tax zone around the pharmaceutical industries on U.S. 70 east of Clayton. Millions of local tax dollars were dedicated to this initiative. Johnston Community College got involved and a workforce development center was created. The center has, in the short term, benefited the students and related industries. However, that's only a small segment of the population. Will the long-term return match the investment? Only time will tell.

We encourage our state and local leaders to commit funds and recommit the focus to early childhood education of 3- and 4-year olds. Developing a world-class workforce that will be able to compete on a worldwide scale is essential.

---

Impact of Early Education on
Quality Workforce Detailed
Adrian Michigan / June 30, 2007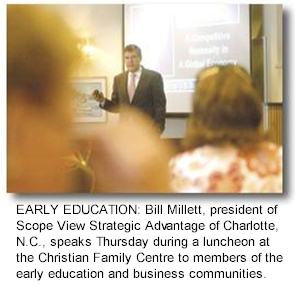 Early education and its effect on the global economy was the topic of a luncheon Thursday afternoon at the Christian Family Centre.

Members of the early education and business community joined to listen to Bill Millett, president of Scope View Strategic Advantage of Charlotte, N.C., tell them why their vocations need to partner for America's future.

"It is us versus them," said Millett, whose firm assists organizations with planning, needs assessment, training and positioning. He was referring to American school children struggling to keep up with foreign children when it comes to education.
Millett said the United States no longer has the best-educated workforce, and that rates of high school and college graduation are lower here than in many other countries.

Quality early education is part of the solution to the problem, he said. Great Start, Michigan's early education initiative, was launched in 2004 by Gov. Jennifer Granholm to coordinate services the state has for children, before they start formal education.

As Millett cycled through a PowerPoint presentation, he paused at a slide showing a space shuttle launch.

"Think of Great Start as that launch," he said. "It delivers a quality commodity to the public school system."
Millett said his home state of North Carolina has experienced substantial benefits from Smart Start, a similar program it launched 14 years ago. He said studies show that children who receive early education often perform better in the workforce and stay away from the legal system.

But the problem with early education, according to Millett, is that it has always been early education organizations, promoting their own programs. He suggested that business leaders should take the lead, and that many major corporations are stepping up to address the issue.

"We need less of the early education community out front," he said. "When you look at the face of early education in Lenawee County it's important to include everyone, including the business community."

Ann Hinsdale Knisel, who is doing consulting work for the Lenawee Intermediate School District, said Millett's talk came at the right time as the LISD prepares for a retreat to discuss the community's progress on early education.

"Most of us who are educators talk about this and say this would be a good thing to do, but we don't often talk about the economic development part of that. He gave us some language today to do that."

Millett said his main mission is to instill in people that early education is more than just the personalities of the children involved. It's about preparing children to succeed in school, which ultimately creates a more competitive workforce.

Although he said the United States as a whole is struggling to implement early education programming, Lenawee County is making some impressive strides, despite a lack of funding.

"The bottom line is this collaborative has not yet received funding, but they are farther down the road than some counties who have hundreds of thousands of dollars to work with," he said.

The luncheon was sponsored by the LISD, the Alliance of Local Chambers and the Lenawee Chamber for Economic Development.

---

Durham, Chapel Hill and The Research Triangle Region of North Carolina
March 25, 2007
Lead Editorial



Editor of the Herald Sun
Business Support for Children is Critical

David Lawrence, former publisher in Detroit and Miami and editor of The Charlotte Observer when I went to work there in the mid-1980s, led a successful campaign a few years ago to persuade Floridians to put up a good chunk of money for early childhood education.

The subject had become a passion for Lawrence, and Dave approaches his passions with frenetic intensity. In selling early childhood education, a key was enlisting the support of the business community.

One reason that was important, he observed to me a couple years later, was to protect initiatives from the natural ebb and flow of the political process. By the nature of the system, one administration's initiative is supplanted by the next, and so on. But business support tends to be more stable over time.

I thought about the observation last week when a group here called Champions for Education persuaded several dozen business and civic leaders to show up at 8 a.m. for a persuasive presentation on why business should care about early childhood education. We've seen some of the shifting sands of political emphasis here. The Smart Start program aimed at the youngest preschoolers was a major initiative of then-Gov. Jim Hunt. Gov. Mike Easley, while supporting that effort, has put even more vigor into his More at Four program, also vitally important but in the allocation for scarce resources taking away, some fear, full funding for the Smart Start efforts.

So business support will be critical to carrying forward both programs. And the message Bill Millett, a Charlotte-based consultant, had for the group on Wednesday morning was that getting behind high quality early childhood education isn't just about feeling warm and fuzzy. It makes good economic sense.

More than that, Millett made a strong case that failure to get early childhood education right will further erode our ability to compete in a global economy where emerging heavy hitters such as India and China are challenging our half-century of unquestioned dominance.

He recalled the philosophy Hunt articulated when launching Smart Start in 1993. "A world-class work force requires world-class skills, which require children to come to school ready to learn," Millett quoted Hunt as saying at the time.

In recent years, we've learned an enormous amount about the brain's development in early years. Far more than a couple decades or more ago, when the current generation of leaders was growing up, we understand how critical it is to develop mental capacity in those early years.

Failure to do so makes it that much harder for a child to succeed once he or she hits the traditional schooling age of 5 or 6. Those kids are more likely to struggle in school, drop out or fail to continue their education past high school.

Millett cited studies that show that good early childhood preparation for learning can mean a child is as much as seven times as likely as an adult to be a productively employed "tax generator" as opposed to a "tax consumer" incurring costs for support or, worse, imprisonment.

In an intriguing comparison, Millett noted a study by the Committee for Economic Development, a business advocacy group. The committee has argued, Millett said, that "building a strong pre-school program is a far better tactic to boost the economy and create jobs than 'territorially competitive' development policies."

The folks who run Smart Start's N.C. Partnership for Children clearly have gotten the message that they have to actively seek business involvement, and they need to make the case for the economic impact, both immediate and long-range, of the child care industry.

"A lot of well-intentioned programs don't really do very much," Millett noted -- but early childhood educators in this state can make a convincing argument that they accomplish a great deal.

Rosemarie Allen, development director for the N.C. Partnership, praised Durham's Partnership for "leading the way in re-engaging the business community" in this effort. I'm sure that the businesses that have engaged, such as Wachovia Bank, one of the underwriters of Wednesday's program, would welcome all the company they can muster.

---

Significant Returns on Investment, Millett Says
Early Education / Economic Growth Ties
Detailed at Forsyth Leadership Summit
October 11, 2006

Quality early education is not just a competitive advantage; it's a necessity in today's world.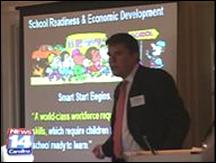 And you can quantify the return on investment, Bill Millett said yesterday before a group of 100 people at the Piedmont Club in Winston-Salem.
"The numbers are there both in terms of immediate impact and the longer-term implications in terms of the future of this region and state and nation," said Millett, the president of Scope View Strategic Advantage in Charlotte, who was the featured speaker at a leadership summit on the economic impact of early-childhood education in Forsyth County.
The child-care business is an industry that generates more than $1.5 billion a year and employs more than 46,000 people in North Carolina.
In Forsyth County, according to a 2004 study by the N.C. Partnership for Children on the economic impact of child care in North Carolina, there are 103 licensed child-care centers and 164 homes that offer child care; 1,597 child-care workers and directors; and a child-care payroll of $26.3 million.
Smart Start of Forsyth County, a non-profit group that administers programs to improve the quality, affordability and accessibility of child care, sponsored the summit in an effort to educate community leaders and generate discussion about the economic and social impact of child care.
Millett said that early-childhood education is important to compete in a worldwide economy, as such countries as India and China together contain one-third of the world's population.
China, he said, is rapidly shifting from low-cost workers to state-of-the art manufacturing, and India is creating world-class innovation hubs and service-related organizations. Nigel Alston, the director of employee and community relations for GMAC Insurance, was the moderator for a panel discussion with Peggy Carter, the vice president for Forsyth Medical Foundation; Michelle Howard-Vital, Winston-Salem State University's interim chancellor; and Mayor Allen Joines.
Among other things, Carter shared her thoughts on the diversity in the local community and the immigration issue.
"When you sit in a corporate environment in a global corporation, you look at it every single day that you go to work that your competition is not in this country," she said. "It is literally all over the world. I think that there ought to be opportunities to use the immigration in our community in a positive and aggressive way to teach our children every day that they are citizens of the globe, and not just citizens of Winston-Salem and North Carolina."
Howard-Vital agreed, saying that programs are needed to help children succeed and be competitive so that the U.S. doesn't end up becoming almost a Third World country.
"Our children are going to live a life that maybe we cannot even imagine now," she said. "Maybe they will speak several languages; maybe they will have co-workers in India or China."
Joines appealed to the pocketbooks of members of the audience.
"Think about return on investment," he said. "You all own businesses. You own homes. If we in Winston-Salem can't remain competitive, if we can't bring companies in, if we can't keep companies here, if we can't grow our tax base, it's going to impact your pocketbooks. This is one way you can help us stay competitive."
Smart Start officials were pleased with the turnout at the summit, Michelle Cook, a member of the board of directors of Smart Start of Forsyth County, said after the meeting.
"This is a community issue," she said. "It's a quality-of-life issue, and it's going to take all of us talking about the importance of early-childhood education and the investment." She said that early-childhood education is important to everyone, even people who don't have children. "Our desire is that a year from now, we'll have almost a community plan as to how we can invest in early-childhood education."

---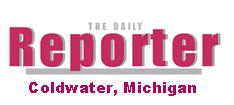 Millett Lays Out the Economic Case for
Michigan's Great Start to Local Leaders
September 25, 2006
Two years ago, Michigan Governor Jennifer Granholm announced that Branch County-- through its intermediate school district-- would be one the first to develop a Great Start Program. The Michigan Early Childhood Investment Corporation (ECIC) was subsequently established, and is developing the framework for effective early childhood development and care programs through partnerships with local collaboratives around the state. Amy Galliers directs the program locally.
In March, Branch County was one of only 14 communities to receive a grant to launch a Great Start initiative to strengthen early childhood development and care locally. It is currently involved in capacity-building, using the grant funds to help analyze early education issues and barriers.

The Branch County Great Start Collaborative, along with the Early Childhood Investment Corporation, has been quietly establishing the local organization, and recently brought in Bill Millett, President of Charlotte, NC based Scope View Strategic Advantage, for a half-day conference to explain the importance of the program and the ideas behind it.
In an overview of the world's economy, Millett explained, "The competition for economic development today is global, not only between cities and states, but between countries. Pointing to India and China, Millett noted that pair have a third of the world's population. Last year, they collectively graduated 500,000 engineers, while the United States graduated only 60,000. Half of those were from foreign countries, and "More and more of those are returning home."
In 1982, the U.S. ranked first in the percentage of the population that graduated from high school and college. In 2006, the U.S. had dropped to 11th in high school graduation and seventh in college graduates.
Millett has been heavily involved in North Carolina's Smart Start program, and will share from the business point of view the role that early education plays in economic and workforce development. Governor Granholm has stated that providing trained employees to keep business in Michigan must start before kindergarten. Great Start works to assure a coordinated system of community resources to help all Michigan families with children from birth to age five.
The message that the Branch County Great Start Collaborative along with the ECIC wanted people to hear was that to make a full impact, education has to start before children reach school age. "The future of economic development in Branch County," Millett stated, "depends on how you position the kids of today. Although not always portrayed as such, Great Start at its core is an economic development initiative."
"The Business Roundtable, the cream of the crop of the business community on a national level, is saying how critical the matter of quality early education is to the nation's future. What Great Start can do is make sure that the link between education, the social services community and the business community is as strong as possible." Such organizations as the Center for Economic Development, the Federal Reserve Bank of Minneapolis and the Brookings Institution have also gone on record emphasizing the critical role that quality early education will play in the years ahead for the nation's economy and quality of life.
Millett notes that while a primary emphasis in North Carolina's Smart Start program is quite properly on the state's youngest citizens, there is far more at stake than that.
"Those kids today are, for better or worse, a substantial part of our workforce 20 years out. They will grow into a world that is more economically complex, challenging and competitive than anything we've ever known," Millett said. "In that respect, programs like Smart Start and Great Start are the first stage of an educational trajectory that in a very real way will determine not only their futures, but the economic vitality of their communities, states and the nation. What holds true for the children of North Carolina is equally valid for the young citizens of Michigan."

---

School Board Hopes To Help
Students Meet High Standards

July 14, 2006
EAST SPENCER — School system officials on Thursday turned toward the future, sharpened their focus and vowed to help their graduates be competitive in an increasingly challenging world.
Board of Education members and system staff spent the last few hours of their daylong retreat hashing out their broadest goals and establishing a vision, mission and set of beliefs for the school system.
The vision — the banner under which Rowan-Salisbury schools will operate — is to be "an exemplary system whose schools are recognized for the outstanding quality of their graduates, staff and programs. Those graduates allow Rowan County to successfully compete regionally, nationally and globally for high-quality business and economic development."
Consultant Bill Millett of the Charlotte-based Scope View Strategic Advantage, who facilitated the discussion Thursday, said the object of the exercises was to trade the board's old vision and mission — generic catch-phrases — for more meaningful ones that reflect the system's priorities and let taxpayers know where their money's going.
"Take a look at what you have now," Millett told the group. "What you have now doesn't do you justice." For example, the board's vision laid out a broad, vague goal: "becoming one of the best school systems in America." And its mission urged "maximizing learning for maximized success" — a phrase that doesn't mean much and could probably apply to any school district in the country, Millett said.
"The decisions you make and the mistakes you make have long-term ramifications," he said. "If you get the vision, and if you start off with the right mission, it can help determine where the money goes."
Millett started the discussion with a few guidelines: the vision should reflect a lofty goal, while the mission should describe the school system's role in achieving that vision. From there, the school system can develop specific, measurable objectives, such as lowering the local dropout rate or raising SAT scores, to reach its goals, he said.
School board members split into two groups and, staff members and administrators in tow, headed to separate rooms to brainstorm. The discussions centered on getting the community involved, helping students become competitive on local and global levels and attracting businesses and industries to Rowan County as a result.
"I don't want to paint a rosy picture," board Chairman Bryce Beard told his group. " ... I want a partnership. I want to paint a picture of us all being in this together. Not one of us knows the answer, but if we put our heads together, we'll be OK."
The groups reconvened an hour later with two very different visions; one focused on the school system and its students alone, while the other had a broader scope, incorporating business and industry. Millett said it was important to think about education in terms of business, as students are finding the job market increasingly competitive.
In addition, the schools-based vision, which called for a system full of "outstanding" schools, suggested that the school system was not already performing at that level. And such a vision would leave the school system vulnerable to the question, "What am I paying for?"
But board Vice Chairwoman Kay Wright Norman said that was just the point: The school system isn't performing as well as it should be and needs more funding from county commissioners to reach more of its goals. "You get what you pay for," board member Jim Shuping added. "We are not an exemplary school district right now."
Beard said that wasn't all the commissioners' fault, as their money doesn't make up the school system's entire budget and isn't the only thing plaguing local schools. The group decided to move on and had an easier time agreeing on a mission, as the two sections' attempts were "very close, philosophically," Millett said.
The missions both focused on community partnerships and schools that inspired students to become better citizens. And the two groups, in mock competition before, admitted, laughing, that each other's mission was well done.
In the end, the groups combined parts from each to decide that the system's mission would be "to develop globally competitive schools that inspire, challenge and empower students to meet high academic standards, lead ethical lives and demonstrate knowledgeable, responsible citizenship in an increasingly challenging world."
When Millett read the final version, everyone in the room applauded.
The groups adopted a belief system easily, too, streamlining two lists and creating a preamble: "All children deserve the opportunity to reach their full potential."
The beliefs include: Child-centered schools, a balanced, rigorous curriculum for all students and partnerships among students, parents, teachers, staff members and the community.
With some time left and spirits high, group members tried again to agree on a vision. And, with Millett's help and in just a few minutes, they combined their very different attempts into one.
"The question of the day," Millett said, as board members and staff relished the accomplishment, "is so what? What are you going to do with it?" Grissom said school administrators and staff, who were already working on school-improvement plans, could develop more specific goals based on the new vision, mission and beliefs. Board members agreed, and Grissom said the improvement plans, as well as other solutions, should be ready by the Oct. 23 board meeting. She called on the board to make decisions, meanwhile, based on its new vision.
"It's a journey," Beard said. "It's not going to be done tomorrow; we understand that." Millett said that was OK, as long as the school system doesn't stop evaluating and re-evaluating its plans and goals. As the world continues to change, schools must continue to catch up, he said, adding, "Rowan County's future hinges on your knowledge infrastructure."
"The main question is, where are we now?" Beard said. "The second question is, where do we want to be in five to ten years? ... We're in this together, as a team." And the teamwork Thursday was something to celebrate, the group decided. "I just love the way y'all worked together today," Grissom said, applauding the board and Millett. "It was great."
Millett just smiled and said, "Three hours ago, I said the vision and mission were not worthy of you. I didn't know how right I was."

---
Wilkes Library Reallocates Resources

July 12, 2006
The members of the Wilkes County Public Library voted Wednesday afternoon to close the Ronda branch library located in the town hall. The closing will be effective September 1. The board also voted to enhance bookmobile service to Ronda.
Mary Sizemore, the Appalachian Regional Librarian (who oversees the county libraries in Wilkes, Ashe and Watauga) told board members that she and Wilkes County Librarian Louise Humphrey "have looked and looked at the issue, and we don't think it's the best use of taxpayers' money to serve people in this way."
Humphrey said this week that she had recently received an analysis of the Wilkes, Traphill and Ronda libraries usage, and had forwarded copies to the local board members. That report was done as part of the Appalachian Regional Library's strategic plan for the future. The analysis was done by Scope View Strategic Advantage of Charlotte.
In his summary of the report, Scope View President Bill Millett said "Budgetary realities and a growing and changing service population require a consideration of some reallocation of the overall Wilkes County Library operating budget throughout the system. While some adjustments may be in order at Wilkes Main and Traphill as well, the cost/use ratio is high enough to warrant a close inspection."
"Of particular concern are the per capita operating costs there compared to Wilkes and Traphill and the relatively few people in the area who actually use the library. As noted elsewhere, Ronda should continue to have access to the library's resources. That does not mean that the existing facility should remain operational. Failing that, more frequent and innovative use of the bookmobile may be one option that would prove worthwhile."
The study showed "There are about a dozen families that regularly use the Ronda facility. There are 331 Ronda cardholders; 189 have not used their card since 2003 or before. Forty-two have used their card in 2006 as of mid-April.
The analysis included door counts of patrons, operating expenses, operating expenses divided by circulation and operating expenses divided by door counts. The operating expenses divide by door counts for Ronda went from $3.95 in 2001-02 to $8.34 in 2004-05. The figures for the main branch went from $2.28 in 2001-02 to $3.14 in 2004-05 (peaking at $4.03 in 2002-03). For Traphill, the amounts went from $2.49 to $5.28, peaking in 2003-04 at $7.41.
For operating expenses divide by circulation, the Ronda costs ranged from $1.64 to $3.27 over the past four years, compared to $1.14 to $2.07 at Traphill, and $1.59 to $2.35 for the main branch.
Board members said that the six-week interval between the decision and the actual closing will allow the library officials time to let Ronda residents know that they are not cutting services to the community.
"Every service we offered in the Ronda branch will be available in the bookmobile," said Mrs. Humphrey. Mrs. Sizemore added that "We have kept very detailed statistics, so we know what the usage is for that branch. That will help us determine when we need to send the bookmobile."

---

Wilmington and Southeastern North Carolina
Public Survey Gives Library High Marks
January 5, 2005
The New Hanover County Public Library gets high marks for supporting school students, providing materials for personal enjoyment and supporting early childhood education according to a recent survey of library patrons.
About 90% of library patrons rated customer service excellent or very good according to the survey, which was conducted in the fall with funding from a federal Library services and Technology Act grant. The survey is part of a comprehensive strategic planning effort being undertaken by the Library according to Library Director David Paynter. Bill Millett, President of Scope View Strategic Advantage of Charlotte, is working with the Library on the overall process.
Paynter was pleased with the study's findings. "Most people ranked library services as excellent, which pleases us very much. Overall respondents seemed to appreciate the willingness of the staff to go the extra mile."
A total of 712 library users and other citizens in the community were polled on topics including the kind and quality of resources, additions to reading lists and hours of operation. On the minds of most respondents were library hours: 184 said library hours were "inconvenient" and need to be extended.
Mr. Paynter agrees, but said a reduction in staff made it difficult to schedule more hours. "We've lost considerable staff a number of years ago, so it's been difficult to extend hours."
The survey also revealed that about 20% of participants "make less use of the library than they might" because they can access information on the Internet using home or work computers. Millett noted the significance of the written remarks. "Nearly 21% of persons completing the survey added comments to the form, an indication of the serious with which they considered the issues and of the value they attach to the library."
Comments included requests for more best-sellers, more computer terminals, faster internet connections and a ban on cell phone use in the library.
"My hope is that people in the community, including county commissioners see the report and are responsive to our needs. The message from the survey is that people really value the library and want more of it," Paynter stated.

---

Partnership for Children Selects
Consultant From Charlotte
December 26, 2004
As it did when it began in 1993, the Stanly County Partnership for Children is in a comprehensive strategic mode. The Partnership is a nonprofit organization with a board of local citizens. It receives and allocates funds from the state's Smart Start program, and will receive more than $1.7 million this year.
"We are beginning our strategic planning process and have chosen a consultant from Charlotte, Bill Millett, to assist us, " says Barbara Whitley, Partnership Executive Director. Millett is President of Scope View Strategic Advantage, a firm with substantial planning experience for a variety of private, public and nonprofit organizations. "This year," adds Whitley, our Board of Directors decided to embark on full strategic planning, looking ahead for the next 3-5 years."
Designed to provide every child in North Carolina access to affordable, high quality early childhood education, health care and family support services, Smart Start focuses on children from birth through age 5, working to ensure they come to school healthy and prepared for success. According to latest estimates, there are 4,469 Stanly County children of those ages.
"The Partnership has an obligation to involve as many parents, child care providers and agency representatives in the planning," states Stanly Board Chair Angela Krol. "We've designed and distributed a number of surveys to get a broad-based participation in establishing high priority needs for young children and their families. Krol also says that there will be several general public forums in the county at which local residents will have the chance to make their concerns and recommendations known.
In addition to getting significant citizen input in the plan, the Board and its Strategic Planning Committee are also looking at a number of statistical indicators as to how well young children and their families are doing in our area. To be closely examined are a range of health, economic, educational and social factors. It will be of particular interest to compare how Stanly County stands relative to North Carolina as a whole and to the state's other ninety-nine counties on these issues.
A major effort of the Stanly County Partnership is child care subsidy though which the County Department of Social Services receives additional funds to help low income families pay for child care by a licensed provider of their choice. Other programs include an innovative dental health initiative for young children from low to moderate income families administered through the County Health Department, pre-kindergarten classes for academically at-risk four year olds, and family resource services that provide local families a centralized source of information, resources and referrals to support their children's emotional, educational and physical development.
As Whitley emphasizes, "No matter how strong our performance record has been , we cannot afford to be satisfied. In a very real way, the programs that are funded through Smart Start are about more than the future of those children. Those kids will grow up to the businessmen and women and workforce of Stanly County in 2020 and beyond. It's critical to all of us that our children get the best possible start in life and that they, in fact, enter school healthy and ready to succeed."

---

Library Project Seeks Grant
December 16, 2004
[Note: Subsequent to this article being published, High Point Library was successful in acquiring the grant, and Bill Millett was engaged to assist in the development of a comprehensive strategic plan for the institution.]
Library officials will proceed carefully in planning the $6 million expansion and renovation of the High Point Neal F. Austin Public Library.
"We hope, by the end of this month, to have a timeline mapped out for the entire project," said Kem Ellis, library director. "Probably in the first half of next year, we'll form a committee to interview architects interested in this project and move forward with architect selection."]
Meanwhile, the library has applied for a $15,000 federal library planning grant to pay for the services of a consultant to help develop a strategic plan for the project.
Bill Millett with Scope View Strategic Advantage Inc. of Charlotte is the consultant Ellis has in mind for the job. "It is a competitive grant process," he said. "It's not guaranteed, but I feel good about our chances." Millett has substantial strategic planning experience with both public and private clients.
Ellis expects to be notified this week by the State Library of North Carolina, which administers the grant, whether the library's application is approved.
The consultant will help the library conduct some user surveys and community focus groups to determine how the expansion and renovation should impact library services and programs, Ellis said. The consultant will help the library chart its course over the next 10-15 years, he said. Ellis also wants to plan how to best meet community needs and expectations and maximize the library's impact on the community.
"I'm real excited about it," Ellis said. "It will be a dramatic change. It is a big project. To me, the key to this is not rushing into it, but taking the time to plan it carefully."
Collections and entire services will be relocated during the expansion and renovation process, Ellis said. The business resource and North Carolina collections will be moved to the second floor, and the fiction collection will be relocated to the third floor.
Ellis envisions 2005 will be spent on planning and designing the expansion and renovation, community analysis and bidding out contracts.
"I would think it may be mid-2006 before we would actually have any real tangible work on the building," he said. The logistics of the project will present a challenge, Ellis said, as the project will have to progress while keeping the library open to patrons.
A new public entrance will have to be created and additional parking will have to be found while the project's ongoing. Ellis said the city is actively seeking property near the library for added parking.

---

Child-care industry adds substantially
to community's overall vitality
April 6, 2003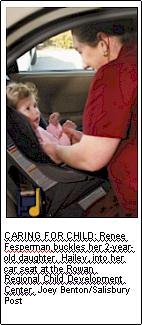 What if local leaders were presented with an industrial prospect that employs more than 400 people, with a multimillion-dollar payroll? They'd probably do back flips.

But Rowan County does have this industry. It's called child care, and officials say the community does not realize what an essential resource it is.

"Rowan County's economy would come to a standstill without child-care programs," said Rosie Allen, executive director of the Rowan Partnership for Children.

When talking about local industry, people rarely mention the importance of child care in allowing employees to do their jobs. "Child care for working parents is a vital component of economic development," she said.

Bill Millett, president of Scope View Strategic Advantage, recently did a study for Rowan Partnership for Children, showing the impact of day-care facilities on the local economy.

The study found that the child-care industry contributes substantially to the overall economic vitality of the community by creating jobs, improving workers' productivity and creating a need for goods and services.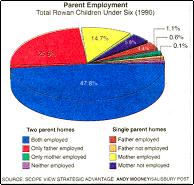 More than a third of the state's 620,000 children under the age of 6 are cared for in regulated child-care centers and homes, according to the study.

When he was director of economic development for the Charlotte Chamber of Commerce, Millett spoke with executives from a Manhattan company. Trying to convince the company to relocate to Charlotte, Millett was equipped with the cost of housing, tax rates and information about the public schools. To his surprise, visiting executives first asked Millett about the cost and quality of child care.

In 2001, the Child Care Services Association working under contract for the North Carolina Partnership for Children undertook a study of the early childhood work force in each of the state's 100 counties. In Rowan, surveys were mailed to 47 centers and 36 family child-care providers. According to the data, the number of people working in child-care services in Rowan County outnumbers agricultural workers by almost 12 percent and those in finance, insurance and real estate by more than 50 percent.

A study by the Institute for Early Childhood Professional Development determined that the average salary of directors of child- care centers ranges from $7 to $25 per hour. Officials from the Rowan Partnership report that the average in Rowan is about $12 per hour. Millett noted that if 47 centers have directors who make $12 per hour, 40 hours each week for 52 week in a year, this generates roughly $1.2 million in salaries.

Likewise the median wage for a teacher is $6.75 per hour. Millett said since not all teachers are full-time, they assumed 30 hours for the 448 teachers in Rowan. This would create about $5 million in salaries locally each year.

Assuming taxes and other deductions, Millett concluded that the Rowan day-care workforce would have about $4.7 million that could be spent in Rowan County.

Using an economic model for how dollars spent locally are re-spent again and again, he says the day-care workforce salaries have a total impact of $11 million locally.

Expanding labor pool

According to the National Women's Law Center, women with pre-school children are the fastest-growing segment of the labor force. They represented just 12 percent in 1947 but 67 percent in 1998.

Locally, of the 10,913 children ages birth to 5 in August 2002, one in five -- 2,229 -- were in regulated child care.

In nearly half the cases, 47.8 percent, child care helped both parents be in the workforce, while the other half only one parent was employed and needed child care. Again, using a formula, Millett concluded that 2,381 parents in Rowan need day care so they can work. Assuming these parents earn only two-thirds the average wage, or $18,889 per year, they would earn a combined $45 million. Even assuming a wage of half the county average, they will still make $33.6 million, Millett noted.

Productivity

Millett said problems with child care can adversely affect an employee's performance. Employees may be absent or late, turnover may be a problem and recruiting and training costs can rise.

In 1997, a Families and Work Institute study found that 82 percent of working parents of children age 6 or younger missed more than a handful of work days, were late, had to leave work early or used time on the job to deal with child-care problems. Eight days in work time was lost annually per parent.

The study also suggested the productively of more than 67 percent of non-parent employees is affected when co-workers have child-care problems.

Dr. Becky Greer, personnel director for the Rowan-Salisbury Schools, said school officials have discussed exploring some sort of child-care service. Officials recently visited Hopewell Elementary School in Randolph County that provides day-care services for the children of staff members in that school and schools it feeds.

"We visited because we were intrigued by how it was being effectively implemented in a public school system as a service to employees," she said. "I do not think we would be looking in areas where quality day care is already available, rather areas where day care is not available within reasonable driving distance."

In a report in 1995, the National Conference of State Legislatures included the results of a survey of companies that offer child-care services to employees. They reported a 62 percent increase in morale, 54 percent reduction in absenteeism, 52 percent increased productivity and 37 percent lower staff turnover.

Millett said quality child care for workers has become generally recognized as having a definable positive effect on companies' bottom lines.

Rowan Regional Child Development Center is about three blocks from the hospital and serves 97 kids -- 79 are children of hospital employees.

Director Gloria Radcliff said the center is open to the public when they have spaces available, but with 106 capacity and some employees' infants on the way, they expect to be full soon.

Radcliff said the center has an open-door policy for parents. Since the center is so close, mothers who work at the hospital can come on their lunch break to breast feed or simply visit.

Radcliff added that the center is open 6 a.m. until 6 p.m. six days a week and during inclement weather and holidays, since employees have to work then. The center is closed on Sundays.

The center opened in February of 1991 and now has 20 employees when fully staffed.

Goods and services

Child-care providers in Rowan must use services and buy goods to operate, which supports other industries. Among these are food, toys, arts and crafts, first aid supplies, laundry service, cleaning service and supplies, office supplies, legal and bookkeeping assistance, insurance, advertising and training materials.

Millett said using information from reports produced in other states and adjusting them for the North Carolina market, it is reasonable to assume that these purchases may exceed $2.5 million.

Reduction in crime

A 2000 report from a law enforcement coalition group called Fight Crime: Invest in Kids, analyzed studies of 1,000 children in and out of day-care programs in North Carolina and Chicago. The group compared the juvenile arrest records of 1,000 18-year-olds.

Of those who only attended kindergarten, 26 percent had at least one juvenile arrest and 15 percent had two or more.

Of those who had attended a pre-school program, 16 percent had at least one juvenile arrest and 8 percent had two or more.

When the law enforcement group surveyed its members -- 700 police chiefs and sheriffs across the country -- to identify the most effective way to reduce juvenile violence and subsequent adult crime, 69 percent said the provide more educational child care and after-school programs.

No other solution was even close: 17 percent of the chiefs or sheriffs said to prosecute more juveniles as adults, 13 percent said hire more officers to investigate juvenile crime and 1 percent said install more metal detectors and cameras in schools.

Rick McCollister, chief court counselor in Rowan for the N.C. Department of Juvenile Justice, said studies show one of the most likely times juveniles commit crime is between 3 and 6 p.m. Based on this, officials believe structured activities keep kids out of trouble.

McCollister said Rowan is lucky to have many programs through the YMCAs, the Department of Youth Services and other organizations that provide after-school programs

Publicity

Millett said that by looking at these numbers, one can see why companies' investments in child-care subsidies can benefit them and their employees.

"Anytime you see Smart Start portrayed, all you see is kids," Millett said, but people also need to see the economic effect on the community.

Millett told members of the board of Rowan Partnership for Children that this is the type of information they should be getting out to the public.

Allen said the partnership has shared this information with community leaders and elected officials. Officials have included it in presentations and in their fact sheet.
Millett said he knows of no other partnership in North Carolina which has done a study like this. State officials are considering using it as a model, he said.

By Jillian McCartney, Salisbury Post
704-797-4253 or jmccartney@salisburypost.com.

---

New Name, New Purpose For Business Group
March 30, 2003
Something old is becoming new in Rowan County.

During their Annual Membership meeting held in March, the Salisbury Rowan Merchants Association unveiled its new name as Rowan Business Alliance.

"It's so much more than just a name change," emphasizes Janet Smith, Chairperson for the membership's Strategic Planning Committee. "Rowan Business Alliance truly reflects the essence of who we are and what we are doing in this community."


"Rowan clearly defines our focus and includes all areas of our great county. Since manyof our members are not merchants, we added Business to promote membership diversity and inclusion. Finally, Alliance promotes interaction, connectivity, information resources and more. Our Alliance wants to serve as the hub of the wheel for the membership."

According to Smith, the committee worked for more than a year to develop a strategic plan and to craft a mission, vision and operating principles for the board and membership
.
"A lot of time, thought and hard work went into the process," shared Smith. "But our committee didn't do this all by ourselves. It was truly a team approach as members provided valuable input and feedback via mail surveys, focus group studies and telephone interviews. By far and away, the over-riding theme from that input was to have an organization that would focus on promoting Rowan first."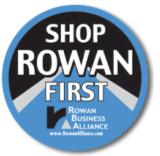 Richard Perkins, Executive Vice-President of Rowan Business Alliance, highlights two key differences between the former Association and the new Alliance. "First, we will be aggressively engaged in activities that better promote local businesses and community agencies. Two exciting initiatives are Help Rowan First and Shop Rowan First that will serve as catalysts to draw dollars into Rowan County and support the local community. In addition, members will see an enhancement of services such as the Alliance Partners Network, which will significantly impact local, smaller businesses. There will also be special incentives, promotions and, generally, a more efficient organization."

Many of the existing services will still be available such as ProBill, Inc., Rowan Collection Agency and Rowan Credit Services. Perkins notes that ProBill continues to have a direct benefit in Salisbury Rowan.

"There has been significant growth in and outside North Carolina of ProBill, even though the services are based here in Rowan County. That translates into additional revenue, which stays right here in our community! And we are securing these outside dollars without having to spend an astronomical amount via a national marketing blitz. ProBill is a self-promoting service that extends beyond our county limits."

Even though the annual meeting is complete, the Rowan Business Alliance Board, Strategic Planning Committee and staff feel they are really just getting started. "We are committed to fulfilling the promises we made at the membership meeting," reiterates Smith, who estimates about a six-month implementation phase. "Now it is time to put our words into action to ensure our organization continues to promote the economic vitality of our community. The group is extremely motivated and excited about the next phase. I am confident that the entire community will benefit by the newly created goals of the Rowan Business Alliance."
Note: Bill Millett of Scope View Strategic Advantage was engaged by the organization prior to the start of its strategic planning efforts, and worked with the Board throughout the process. His activities included facilitating two Board retreats, designing a membership survey instrument, holding four membership focus group sessions, helping the Strategic Planning Committee develop new vision and mission statements and operating principles, and developing a new graphics identity. He was subsequently retained by the Alliance to assist with strategic implementation.

---

United Way Considers Changes to Needs
Assessment and Allocations
May 30, 2001

Agency reviews how it raises money, supports local charities
The local United Way is reassessing the manner in which it raises and distributes money in Stanly County. No immediate changes are planned. And if changes are made, they will be phased in over several years.
United Way raised a record $500,000 last year that will support about 20 local agencies. These are all mainline organizations that provide specific social services. The major recipients each year are Arc of Stanly County, Crisis Assistance Fund, Group Home for Autistic, local Red Cross, and the Family YMCA.
But charitable giving is changing, says Bill Millett of Strategic Development Services. Millett conducted a survey last year of the social needs in this county, working with the United Way, Department of Social Services, Partnership for Children, and others.
Last week, he guided the United Way board of directors through a minefield of changes occurring in philanthropy. The message was clear: One, it may become more difficult this decade to raise money and two, United Way needs to better measure the results of its grants.
None of this is to suggest that United Way is not doing a good job of shepherding its funds, and it certainly is successful in raising money in a county with few large industries and businesses-the major sources of large employee giving.
But Millett says that "those United Ways that continue to do business as usual will lose their relevancy, their credibility, and ultimately some of their philanthropic market share." The way people give is rapidly changing. Donors want to see results.
United Way largely depends on employee contributions. Businesses deduct, with approval of the employees, a small amount from each paycheck and this is sent to the United Way, which distributes the money each month to its member agencies.
But more large companies are breaking away from United Way and conducting their own fund-raising campaigns and permitting a committee of employees to decide where the money goes. In effect, they create their own miniature United Ways. This occurred last year when Phillip Morris in Concord pulled out of United Way in favor of its own in-house program. Until then, employees who gave to United Way designated their gift to Stanly County's agency. Now that large source of revenue is gone.
Other large companies may follow Phillip Morris' leadership. And the continuing trend toward mergers of large companies often removes local control over giving. The trend toward smaller businesses, often using the Internet for sales, can affect giving.
Millett says the baby boomers have their own culture of giving and can be annoyed that their bosses push them into United Way withholding plans. "More than a few outright reject United Way as an old-line establishment organization, irrelevant to addressing today's needs."
He suggests that United Way better measure the results of its giving. Former local president Michael Taylor, president of Stanly Community College, says agencies have come to expect their United Way checks and often do not closely track exactly how that money is used or how effective its United Way-supported programs are. Taylor, himself, is president of the One-On-One Program which supports big brother/big sister relationships with at-risk youth.
To prepare for his meeting, Millett surveyed the local United Way board members, asking questions that probed the local agency's effectiveness. The conclusion: Many board members felt that they do not "realistically evaluate" their own effectiveness or that of the agencies they support.
Millett suggested that the board ought to do exactly that-look more closely at how the agencies they support are doing.
Taylor suggests that the local United Way go a step further. He proposes that United Way study the social needs of the county, determine needs that aren't being met, and propose grants to agencies willing to meet those needs. In other words, United Way should become more pro-active in the community.
As it is, the same agencies receive about the same money each year. Only two agencies have dropped from the list in recent years, and they left on their own accord.
Most board members feel that "United Way is widely perceived throughout Stanly County as a strong and responsible voice addressing the human service needs of our less fortunate citizens." That is good. What Millett warns against, however, is the changing patters of giving and that United Way not in the near future be caught out of touch with its community.
United Way needs to place "heavy emphasis on being a careful grantor of funds to be used to achieve measurable goals," says Millett. "The burden of proof is on the United Way of Stanly County to demonstrate that it is allocating the right dollars to the right agencies and achieving the right results. Can you do that now?"
The local board decided at its meeting last week to begin to answer that question as clearly and as knowledgeably as it can.

---

County Undertakes Comprehensive
Child Health Survey
March 27, 2003
For the next six weeks, the Columbus County Partnership for Children will be surveying area parents in a major imitative to insure that Smart Start health-related funding locally is being directed to programs of greatest need.
Smart Start is a state program that helps improve the quality of child care, make child care more affordable and accessible, provide access to health services and offer family support in all 100 of North Carolina counties. The program is administered locally by the Columbus County Partnership, whose Board is comprised of representatives of public agencies involved with young children's issues, child care providers, parents, the business sector and other leaders. This year, the Partnership allocated $1,163,104 in the county for a broad base of children's programs.
Established in 1993, Smart Start has garnered much national recognition and is considered a model for comprehensive early childhood education initiatives. Its efforts center on the 0-5 age population, and it has served as the basis for programs subsequently established elsewhere, including South Carolina's First Steps. Representatives from thirty-nine states attended the recent Smart Start annual conference hosted by the North Carolina Partnership for Children in Greensboro.
The survey process is part of a comprehensive look at children's health issues in the county that the Partnership began in November according to Rebecca L. Banks, the agency's Executive Director. "Accountability and specificity have been at the heart of Smart Start since its establishment in 1993," Banks stated. "This project is designed to significantly involve parents in identifying important health issues of their children, developing strategies for addressing those issues and initiating appropriate actions and interventions."
The Partnership has established a Community Assessment Team of local officials to oversee the effort, and that group meets on a regular basis. Its members helped shape the final language of the survey instrument, which takes 10-15 minutes to complete, and includes questions on barriers to accessing health services for young children and parent's perceptions on the major health issues regarding their children. A particular focus is determining parents' knowledge of Health Check (Medicaid) that provides free health insurance to children of low-income families who qualify and Health Choice for Children-- providing free or low cost health insurance to uninsured children whose families cannot pay for private insurance and who do not qualify for Health Check.
Columbus County Hospital will be asking new mothers to take part in the survey process, and local child care providers are being requested to help distribute the forms to their client parents. Other health agencies will also be taking part. The survey results will augment hard statistical data gathered from a variety of local, state and federal sources to produce a detailed analysis guiding the Partnership's future health-related funding decisions. The Partnership engaged Charlotte-based Scope View Strategic Advantage to direct the overall effort.


---


City Officials List Biggest
Needs During Retreat
Outdated equipment among concerns raised
February 21, 2003
By Mark Wineka, Salisbury Post
No tax increases, a tough economy, withheld state revenues and deferred capital spending have taken their toll on Salisbury city government.
With the pending annexation of Westcliffe and Hendrix Estates, the city needs a new fire station on U.S. 70 and 18 new firefighters to man it.
The Salisbury Police Station on Liberty Street is 10,970 square feet too small, and the 1975 building needs repairs estimated at $1 million. Expanding the police station and making repairs to the existing structure would cost an estimated $3.5 million.
The city's 800 trunking system -- the communications system that police, fire, utility, public services and county volunteer fire departments rely on -- has radios that are falling apart and major equipment that's no longer manufactured or even repairable.
It will take $2.5 million immediately to bring the 800 system up to snuff.
The Fleet Division Shop, which holds the Public Services office and vehicle maintenance garage, can no longer handle all the city's equipment. Built in 1965, it's just too small.
Salisbury City Manager David Treme and his staff trotted out their big-ticket concerns Thursday afternoon as Salisbury City Council began its 18th annual retreat at the Catawba College Center for the Environment. The retreat actually began with a luncheon at City Hall, where the guest speaker was Charlotte Mayor Pat McCrory. But the rest of the day was less festive, as Treme reviewed many of the capital needs put on hold as the city's financial picture has tightened in recent years.
"Don't wait for 1996 to come back," warned the retreat's facilitator, Bill Millett, president of Strategic Advantage. "It's not going to."
Treme said he was putting before council members the items that "will have the most impact in the near and long term" -- the most critical needs facing the general fund.
Other needs include a downtown convention center that's at least three years away from being built and renovations to the Civic Center to provide an additional city gymnasium and new municipal pool.
Treme and Finance Director John Sofley also believe it's time to get a systematic process of annexation in place. "Financially, if we don't do this, we're putting an extra burden on city taxpayers," Treme said.
The council expects to place priorities on these issues today. Sofley said the council has an opportunity to make some capital improvements in the next fiscal year because debt service in the general fund will decrease $303,162 in the next two years. That means the city could issue roughly $3.5 million in debt next year without affecting the budget, according to Sofley. Fire Chief Sam Brady has been warning the council for years about the need for the new fire station and the firefighters to staff it. The Westcliffe and Hendrix Estates area joins the city July 1. The city already has purchased land for a new station -- 3 acres next to Godley's Garden Center on U.S. 70. The department also has purchased a pumper-ladder truck for the station.
Brady has offered a temporary plan that calls for construction of the station to start after July 1 of this year, to place the pumper-ladder truck in the station once it's built and provide minimal staffing of the station at first. The station could be operational between January and June 2004, according to the chief. Treme said he asked the department leaders whether they could live with minimal staffing, if the city built the station first. "To their credit," Treme said, "they've come back and said, 'Yes.'"
The sentiment in the Fire Department is, "For goodness sake, get us out there," Treme said. It has been 45 years since Salisbury added a fire station. Compared to 1958, the city has the same number of fire stations and only three more people in the department, but its coverage area has increased from 6 square miles to more than 17 square miles.
The department answered 368 alarms in 1958. Last year, it answered 2,925. Brady says travel distances have increased from roughly 1 mile to as much as 2.5 miles, creating a minimum response time of five minutes to some areas if there are no delays.
Sofley puts an even higher priority on addressing the needs at the Salisbury Police Station. The building needs $1 million in repairs to meet handicap accessibility standards, fix the leaking roof, waterproof the walls and renovate existing office space. Those repairs and a three-story addition out to the Liberty Street sidewalk would cost the $3.5 million. "We're going to have to do some improvements at their facility this year," Sofley said. "The question is, how far do we go?"
The 800 trunking system relies on two controllers, 20 repeaters (for 20 channels) and more than 1,000 radios that have been distributed to Salisbury employees, Rowan County employees, volunteer firefighters, other municipal employees, school workers, college crews, hospital workers and others.
Salisbury is the sole source of 800 trunking communications in the county and receives roughly $194,000 a year in income from the service it provides to others. (It charges $10 per radio, for example). The system went live in 1989, with various departments and other agencies coming into the system over the years. But Motorola stopped manufacturing the controllers, repeaters and radios that the system relies on, substituting newer equipment.
Seven years after the company stops manufacturing a product, it also stops any support services on the old equipment. The old analog equipment also is not compatible with the new digital wares. Mike Crowell presented council members with a four-year plan to replace all the equipment, with the major expenditure of $2.5 million happening this year. "We're down to 'have to,' " Treme said. "We have just flat used it up."
Part of the funding could come from the utility department, which is operated as a separate enterprise fund. Rowan County government also would pay for some of the equipment it would use. The updated equipment also would require new consoles at the Salisbury Police and Rowan County dispatch centers. Crowell said his $2.5-million estimate also could be on the high side, and Sofley said the city could consider raising the $10 charge for radios given to other agencies.
Public Services Director Vernon Sherrill said the cramped Fleet Division shop at 519 N. Fulton St. "looks like a Chinese fire drill every day." When it was built, the city had five mechanics and a third of its present-day fleet of vehicles. Now, 14 people work in the Fleet Division, servicing 700 pieces of equipment, from police cars to Weedeaters. Some larger pieces of equipment don't fit into the shop and must be serviced outside. The shop has simply outgrown its present location, Sherrill said, also noting that it makes sense for the future that the Salisbury-Rowan Utilities Department expand its operation onto the site. "That's a spending decision that will have to be made in the next several years," Treme warned.
Parks and Recreation Director Gail Elder White said that even though a downtown convention center is at least three years away, the city should have a team that looks at what type of convention center it will be, how it will function, what it will look like and how it will be funded."We've got to look at that planning stage now," Elder White said. "... We're in obvious need of this in our community."
As the city moves forward with those plans, it also should turn attention to developing the existing Civic Center for true recreational use, Elder White said. The Town Creek Park Master Plan calls for the addition of a gymnasium, pool and more park amenities. The east side of Salisbury needs it, she added.
On annexation, Sofley reminded the council that, as of now, the city has no resolutions to annex any other area. To annex an area involuntarily, the city must pass a resolution of consideration and wait a year before taking the next step in the process.
Treme recommended that the city look at smaller, contiguous locations to the existing city limits, instead of trying for large areas of hundreds of people and thousands of acres. Future annexations should be a regular course of business aimed at filling in "doughnut holes" and areas that already benefit from what the city offers, Treme said. "Financially, if we don't do this, we're putting an extra burden on city taxpayers," Treme said.

---


Comprehensive Health and Human
Services Analysis Begun

March 29, 2000

Stanly County is moving forward in an increasing number of ways. One is its growing concern for providing health and human services to its citizens. A group of social care providers have begun a major study of county services in this county. It will be comprehensive. A report is due in September. The study will help improve the quality of care Stanly citizens receive.
It all began with Beth Olivieri and Pamela Wright. Wright is former director of the Partnership for Children office in Stanly County. Olivieri heads the United Way and sits on the Partnership board. About two years ago the two began talking about a "needs assessment" or study of what local health and human services agencies are doing and if everyone's needs are being met.
Early last year they met with 40 other leaders who agreed a study would be useful. From this group eight individuals were chosen to push the study forward. Represented were Stanly Memorial Hospital, United Way, the Partnership, Pfeiffer University, Stanly Community College, Health Department, Department of Social Services, and the financial community.
Almost $40,000 was raised among major institutional donors and in January Bill Millett of Charlotte was hired to conduct the study. He is looking at education, housing, child care, recreation, family planning, housing, employment, access to physicians, emergency care, mental health services, legal services, delinquency prevention, transportation, language barriers, and a long list of other areas that concern service providers. He is looking at social agencies and county departments. He is asking the professionals in the business of social services what is needed. And he will ask hundreds of citizens, face to face, their perceptions of service quality.
This is the kind of study people who care about their county do. It may well conclude that social agencies, schools, and others are doing well. It may find some needs that are not being met. Either way, Olivieri says it will give them confidence that they are moving forward to meet this county's needs.
Millett says there are a number of indicators that show how Stanly County is doing in human resources. They include percent of low weight births, teen pregnancy, divorce rate, percent single family parents, adults with high school diploma, SAT average score, per capita income and crime rate. If this study can help improve this county's social data, then it will have served a grand purpose.


---

Raising the Bar
Group Wants to Build on Strengths
Monroe, North Carolina / January 26, 2002
An internal evaluation of the Union County Partnership for Children reveals the group maintains an optimistic stability-- a quality that will be needed to meet rising state standards.
With the assistance of Bill Millett of Scope View Strategic Advantage, Board members spent Thursday examining what they thought of themselves. Each member was previously asked to complete a survey regarding the performance of the Board itself. The responses were anonymous and forwarded to Millett independently.
"Best intentions along are not enough," Millett said addressing the luncheon. "They must be matched by accountability, scrutiny and specificity."
"We're evaluating ourselves. We need to know where we're at," said John Gerstenmeir, chairman of the local Board that administers the Smart Start funding.
Overall, Millett found the Union County Board scores to be higher than those of other partnerships. For the most part, the numbers were both consistent and impressive.
The analysis suggests that the Board works well together with a proactive approach. Consequently , they perceive the Board as highly involved and visible to the community.
There were areas of some concern. The report shows that members do not feel all objectives are well defined. This has been a traditional low area in prior surveys. The most glaring issue is the limitations placed on the local Board by the North Carolina Partnership for Children. The consensus is that this situation hinders the Board's efforts to direct funds to local priorities.
"Raleigh's perspective may not be the same as Union County," Millett said. This point became more evident as the Board discussed the state's new Performance-Based Incentive System (PBlS). Although the state has not officially set qualified standards, there is a mandated effort directed at county accountability. Accepting state funding requires compliance. You are being asked to make decisions without defined standards, Millet said. In order to accept state funds, there are standards that must be met. If not, there will be consequences
Preliminary standards set by the state for county review show Union County lagging in some areas, particularly what is considered quality child care. However, Mary Ann Rasberrv, Partnership Executive Director, cautions that the data for comparison remains incomplete.
County board members are confident their objectives are headed in the right direction. "Union County no longer has custodial care, it has child care.' said Tom Batchelor, former Superintendent of city schools.
"By raising the bar for quality child care, the state's PBIS standards renew an old county dilemma of what's quality child care and what's accessible child care. Roy Young. DSS director, said.
Millett reaffirmed the Board's allocated funding as appropriate. With 8o percent of the budget targeted for PBIS specific activities, Millet added that the allocation shows foresight. 'We have an excellent Board and I am confident we can meet all state requirements," Rasberry said. "Once all the data is complete, we'll be in fine shape.

---